Sussex Central claims second DIAA title in 3 years
Knights send Middletown to 0-6 in last 6 title games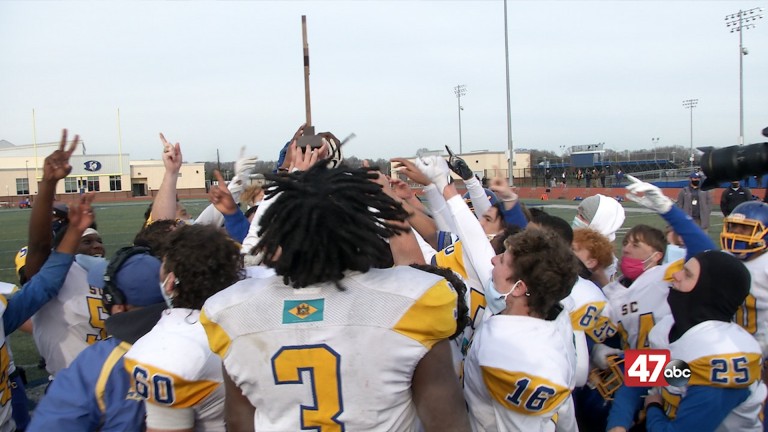 DOVER, De- Sussex Central head football coach John Wells was 0-4 in state championship games–before his 2018 squad broke thru. On Saturday, he became 2-0 in the last three years, when the Golden Knights defeated Middletown 28-19.
The Golden Knights led 7-0 after the first half, with the lone points of the game coming on a Dion Stephens 3-yard touchdown. After forcing two key turnovers in the first half, Jacob Dempsey and the SC defense went back to work in the second.
Although Middletown would tie the game 7-7 midway thru the 3rd quarter–the Golden Knight defense came up huge a few times to help the offense. Alton Dennis would come up with a huge interception that set up Central in the red zone. Stephens would cap off his second score, putting Central back up 14-7 with 1:58 in the third quarter.
Middletown would again close the gap, Colby Chambers would hit Zachary Caldwell for his second score of the game–however, the extra point would be blocked. Up 14-13, the Golden Knights would lean on their running game. The persistence paid off when Phillip Stratton busted a 60-yard touchdown to put his team up 21-13 with under 10 minutes to play.
Central would put the game on ice when quarterback Zimir Gardner took a sweep around the left edge 41-yards into the endzone. Middletown would add a late score, but the Golden Knights would hold late to take the win.