A Wild Week of Weather on Delmarva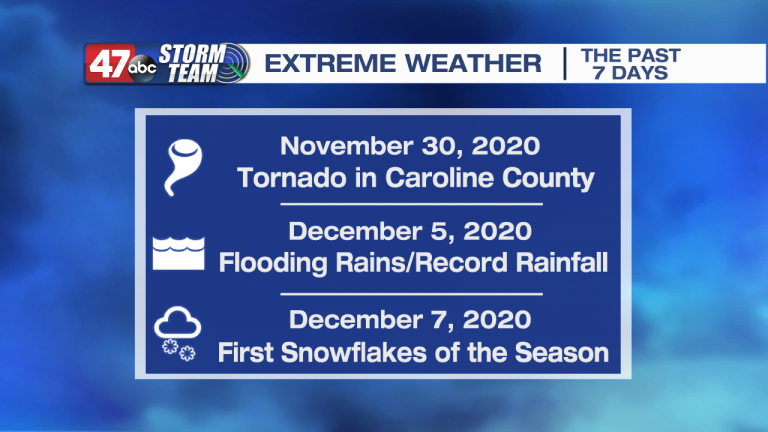 December 2020 is proving to be one active weather month. Within just the last week, Delmarva had a confirmed tornado touchdown, flash flooding, and snow! So what's next? And will the active weather continue?
Right before we kicked off the month of December, on November 30th, severe weather impacted parts of the area. A tornado touched down in Henderson, MD in Caroline County. That tornado was rated an EF-0 on the Enhanced Fujita (EF) Scale with max winds of 85 mph. It destroyed some barns and knocked over trees. No injuries were reported.
Five days later, on December 5th, a months worth of rain fell in just 24 hours, causing flash flooding across Delmarva and record rainfall amounts. Salisbury broke its daily rainfall record with 3.04″ falling, beating the old record of 1.90″ set back in 1927. Georgetown also broke a daily rainfall record with 1.85″ falling, beating the old record of 1.26″ set back in 2003.
After that system passed, cold air moved in behind it allowing for some light snow to fall across southern portions of the peninsula, including Salisbury. This system was much weaker and farther south compared to the one that pushed through on December 5th, and most of the snow melted and did not accumulate.
So what's next? According to the Climate Prediction Center (CPC), more of the same can be expected over the next week or two. We're not saying we're going to have another tornado or more snow showers, but extreme swings in temperature and active weather will likely continue. Below is a look at the CPC's 8-14 day outlook. It shows warmer than normal temperatures overall and above average precipitation in our area. Hold on for a bumpy ride!