Fenwick Island community comes together to uplift people's spirits during coronavirus pandemic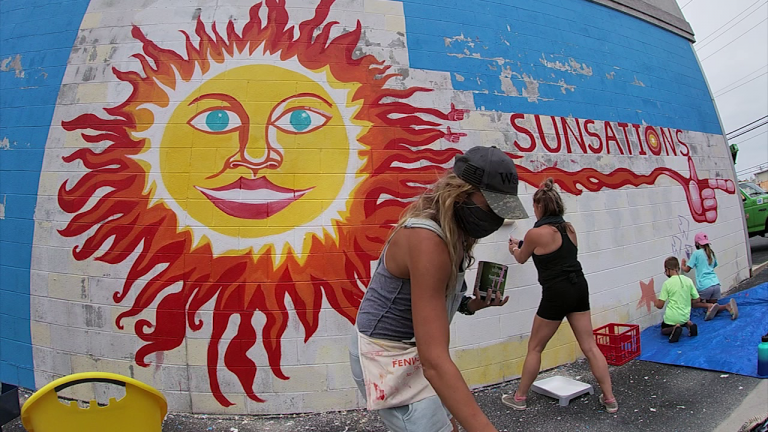 FENWICK ISLAND, Del. – With every coat of paint, people in Fenwick Island are coming together to create murals at Sunsations with hopes to bring a positive change during this difficult time.
"Being able to brighten everyone's surroundings and provide this vibrant positive message of community and collaboration means so much," said Sarah Jayne Bleiweis. She organized the murals project.
Bleiweis says she feels now more than ever people need a sense of connection to each other. So, she reached out to Sunsations with a plan to paint murals and to her surprise, the owner agreed.
"I literally just walked into Sensations with my mural proposal in hand and asked the owner Robert Goldfarb if I could paint a mural because I noticed that he had these murals that were fading," said Bleiweis.
In just a matter of time, kids in the community and even small businesses like Twilley's Willys approached her asking if she needed any help. Chef Matt Gibson at the Flying Fish Cafe and Sushi Bar who's also a local artist says these murals of marine life have not only brought people together, but it's also made an impact on him.
"I like to make beautiful things for people cause I'm a sushi chef and make them happy and every time I see this when I come to work, I'm like man, I helped do that," said Gibson.
Overall, Bleiweis says her hope is to inspire kids through the arts while helping to make a difference in the community.
"They're going to be able to come back here in years to come and point out to their families what they worked on," said Bleiweis.
Bleiweis says there will be a lot more opportunities for kids to paint at the murals site. For more information, you're encouraged to contact Sarah Jayne Bleiweis at sarahjayneyogart@gmail.com.