September 2020: Fourth Consecutive 'Warmer than Normal' Month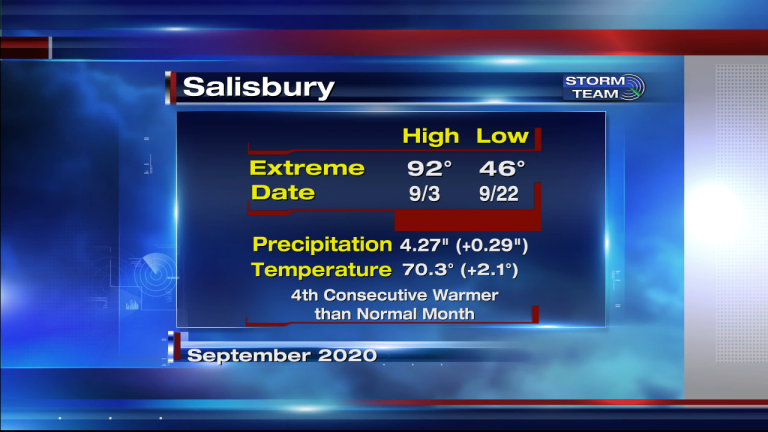 October is here and it's starting off on the warm side, but will it last? I'll get to that soon, but first let's look back at September.
September 2020 ended up being a warmer than normal month. Temperatures started out on the hot side in early September with a couple of 90 degree days. The hottest day was September 3rd when the high was 92° in Salisbury. Temperatures stayed rather warm through the first half of September before autumn temperatures started to show up around the middle of the month. Overnight lows eventually started dropping into the 40s, with the coolest overnight low dropping to 46° on September 22nd. The cool down didn't last too long, and temperatures started to climb back to above averagae for several days at the end of the month. The final numbers show that September 2020 was 2.1 degrees above average. This makes it the 4th consecutive month of above average temperatures, and the 7th month above average all together this year. Only April and May of 2020 were below average months.
Precipitation wasn't all that impressive, especially when you compare it to the record breaking August where nearly a foot of rain fell in Salisbury. September had 4.27″ of rain which is right around average.
Looking ahead, it does appear that autumn temperatures will return, especially between the period of October 2nd – October 10th. The Climate Prediction Center has Delmarva "Below Average" for that period. Then it looks like temperatures may climb above average again. Stay tuned.