Talbot County Council votes 3-2 to keep Talbot Boys Monument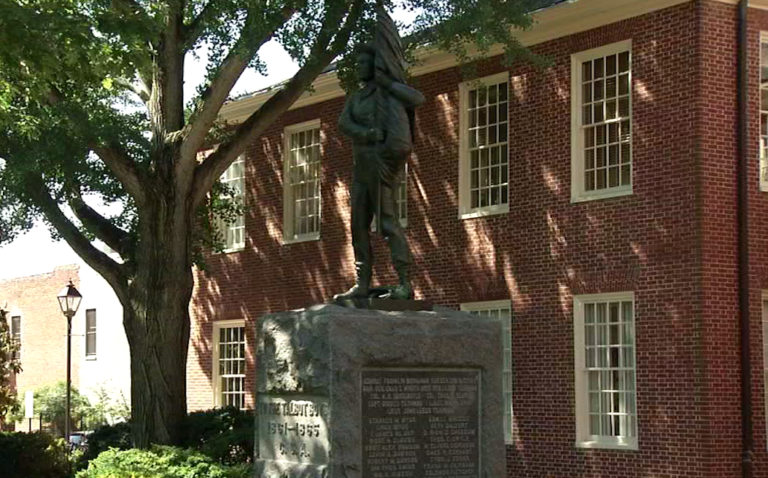 EASTON, Md. –  The Talbot Boy's monument will stay exactly where it is, for now. This after the Talbot County Council voted 3-2 Tuesday night to strike down a resolution that would have removed the confederate statue from the courthouse lawn.
Shortly after news broke about Tuesday night's vote, protestors gathered near the monument to voice their displeasure.
Heena Piracha, a protestor said, "It represents racism, I mean call it for what it is you know?"
During Tuesday night's council meeting, council members Laura Price, Chuck Callahan and Frank Divilio expressed concern about passing the resolution, saying they felt it was not right to vote on such an important matter during a pandemic, when people can't attend council meetings in person.
In response to that argument, Talbot County NAACP President Richard Potter said, "When was ever a good time to bring it up? They have managed to conduct all other business as it relates to the county government, but when it comes to this event and this issue, they don't want to conduct the vote."
At one point during Tuesday night's council meeting, it was brought to Council President Corey Pack's attention that he could postpone a vote on the resolution. Ultimately, Pack decided to move forward with a vote, because he felt that even if they were to postpone a vote, it would yield the same result.
Council members Price, Callahan and Divilio ended up voting against the resolution. Council President Pack and Councilman Pete Lesher voted in favor.
In response to Tuesday night's vote, Pack said he felt disheartened. He said it was, "A sad day for Talbot County…"
Some voiced their support of the council's decision Tuesday night, however. Many took to social media, saying the monument captures an important part of our nation's history and honors the veterans who fought in the Civil War. That's why they feel it's important for it to stay where it is.
This marks the second time in recent years that the council has voted to keep the statue where it is.
The most recent push for its removal surfaced after the murder of George Floyd, which sparked protests across the world.