Protestors gather at Queen Anne's County Public Schools Board of Education in support of superintendent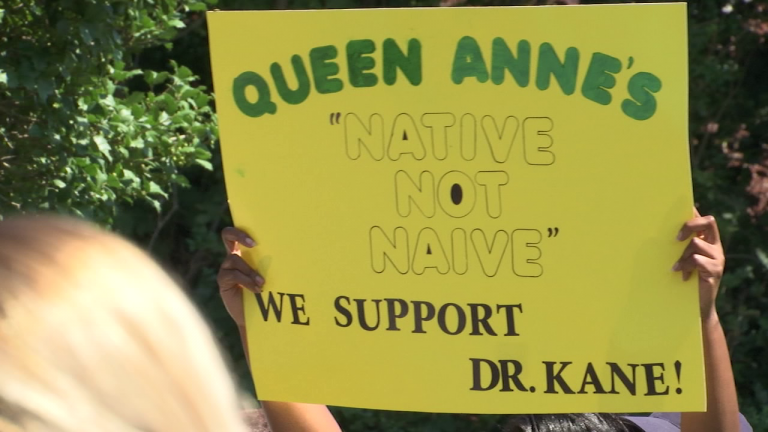 CENTREVILLE, Md. – On Sunday, more than a hundred people rallied at the Queen Anne's County Public Schools Board of Education to show support for its superintendent Dr. Andrea Kane.
Two months ago Dr. Kane penned a letter to parents expressing support for the Black Lives Matter movement, but some weren't happy with what she had to say.
And as a result, an online petition was created claiming that the superintendent is attempting to radicalize students.
Dr. Kane responded to the allegations saying that racism is an issue that must be addressed.
"I'm talking about everyday microaggressions," said Kane.
"I'm talking about sliding a student and giving advantages to one child because they're white and not to another child because they're black or of color," said Kane.
Protestors say Dr. Kane's action was a cry for change that echos across the shore and is being heard.
"The Eastern Shore has to start seeing each other as one instead of different counties doing different county things," said Mya Woods, the organizer of the event and the president of Millennials Demanding Change.
"Queen Anne's County is not exempt from racism, but what this rally means is that there are hundreds and thousands of people that stand with me and want to do something about it," said Kane.
In a statement, Gordana Schifanelli the creator of the online petition that criticizes Dr. Kane's actions says that Dr. Kane violated Maryland law when she used her position to promote her personal political ideology and that people do not want politics in public schools one way or the other.
But protestors say this is a human rights issue and that they'll do whatever they can to bring change.
Dr. Andrea Kane also says she's planning on gathering with community members to come up with ways to engage their children in conversations about race.