Coronavirus-related restrictions impact crab businesses in Dorchester County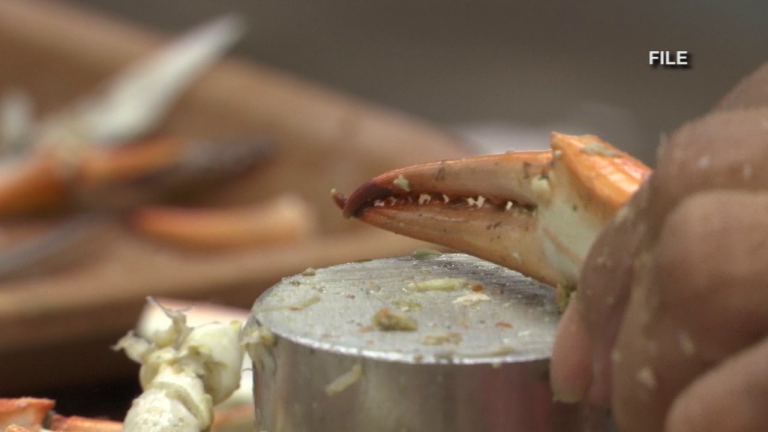 DORCHESTER CO., Md. – Many crab business owners in Maryland say coronavirus-related restrictions are taking a toll.
"Everybody has been doing their best to try to stay up on all the different guidance," said Aubrey Vincent, vice president of Lindy's Seafood.
In Fishing Creek, the owner of Russell Hall Seafood Harry Phillips says there's been a shortage in staff due to a lack of space caused by social distancing.
As a result, they've had to cut back on production.
"We're way short on supplying our customers with crab meat," said Phillips.
"If somebody calls and orders such a number today, I normally say, we'll try to get you part today and part tomorrow," said Phillips.
Meanwhile, in Woolford, Lindy's Seafood says they too have been impacted by the pandemic.
They say they've already been short-staffed for decades, but these new restrictions like checking staffs' temperatures have made things even harder.
"When you've got a shortage of people, you're doing your best to try to get everything done," said Vincent, "When you add additional things that you need to do some times it can be difficult."
"Like I said, not impossible, just one more thing on the list with an already short staff," said Vincent.
Overall businesses tell 47ABC all they can do is keep their heads high and hope for the best moving forward.
"It's been difficult," said Vincent, "I mean there's been no real clear message on how to keep employees and customers safe."
"I mean everybody has been doing the best they can," said Vincent.
"It's hard to predict how long this will go on," said Phillips.
"Let's hope that they get a cure of this disease before the fall and winter come because it's going to get real bad as the weather gets cooler," said Phillips.
According to Vincent, there's a lot of credit that needs to be given to these businesses that are doing the best they can to provide goods and services.
She says the pandemic has also created a situation where people aren't moving into the Fishing Creek community to take jobs in things like crab picking.