March 2020: 8th Warmest March on Record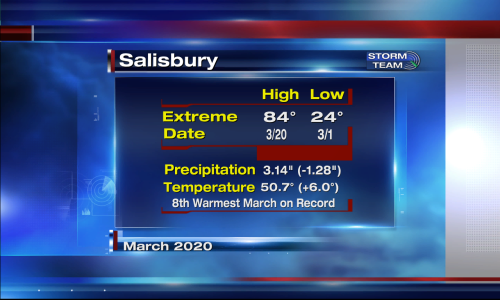 March 2020 will go down in the record books as the 8th warmest March on record in Salisbury. So far in 2020, each month has been well above average in terms of temperatures, all making the record books. January was 6.2° above average, February was 6.0° above average, and now March was 6.0° above average.
The highest temperature occurred on March 20th when the high hit 84 degrees. The coldest temperature was the night of March 1st when the low fell to 24 degrees.
It was also a dry month with just 3.14″ of rain, and that is 1.28″ below average for the month. The wettest day in March was on the 23rd when 0.54″ of rain fell. There was also no measurable snow recorded for the entire month.
Below is an image from the National Weather Service in Wakefield, VA, and it shows how much above or below average each day of the month was. As you can see, the overwhelming majority of March 2020 was above average.