A Look Back at the Weather of 2019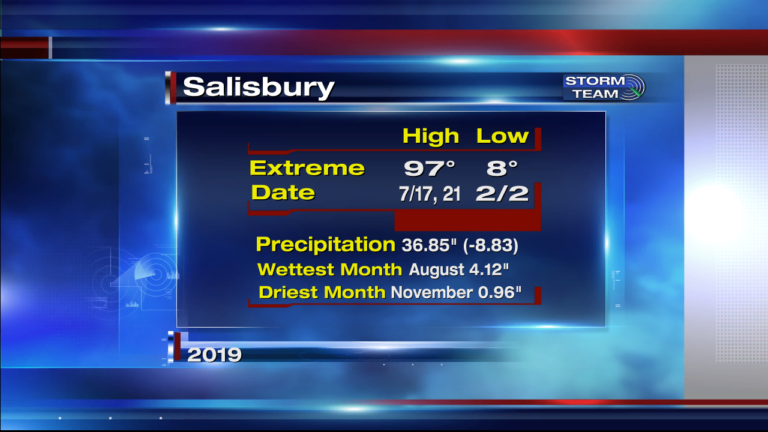 2019 ended up being the 4th warmest year ever recorded in Salisbury, with an average temperature of 58.5°. If you remember, the summer months were quite hot. Here is a look back at the year as a whole when it comes to rainfall, snowfall, temperatures, and more.
The hottest temperature recorded in 2019 was back on July 17th and 21st when Salisbury hit 97°. A few locations on Delmarva did hit 100°. Record highs were broken over the summer in a few locations. There were numerous heat waves and Salisbury recorded a whopping 47 days with highs at or above 90°. The previous year, 2018, only recorded 34 days. The coldest temperature was 8° on February 2nd.
Salisbury ended up with 36.85″ of precipitation, which was below normal by 8.83″. The wettest month was August and the driest month was November. 10 of the 12 months in 2019 had below normal precipitation, and only 2 months (February and October) had above average precipitation. Most of Delmarva entered a drought during the late summer and early fall months, but eventually got out of it as fall progressed. January 2019 was the snowiest month where 3.7″ of snow fell.
We can't forget the three tornadoes that touched down during the early morning hours of April 15th, 2019. These tornadoes caused damage across the peninsula, mostly in the Seaford and Laurel areas in Delaware. The strongest one hit the Laurel area. It was an EF2, the strongest tornado to hit Delaware since 2004. Luckily no lives were lost, but there was a minor injury reported where someone was trapped in their home. There was a weaker one that hit Harbeson and Broadkill Beach, and a third one that was along the Caroline and Dorchester county border in Maryland.
In September, Hurricane season ramped up and Hurricane Dorian made a close approach. Tropical Storm Watches and Warnings were posted across southern Delmarva.
Lastly, an early season snowfall in November. 0.5″ of snow fell in Salisbury, making it the first November snowfall since November of 1989!
Now that 2020 is here, let's see where the weather takes us. No matter what happens though, the 47 ABC Storm Team is here to keep you safe and informed.