Our Most Recent "White Christmas" Story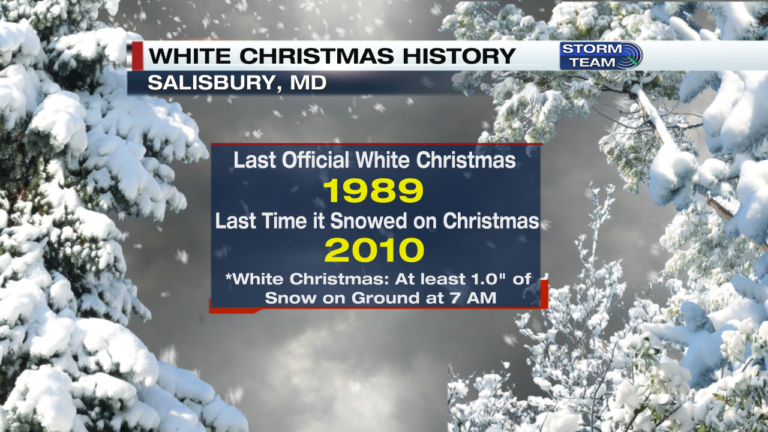 Twas the night before Christmas, and all through Delmarva towns, were whispers that a white Christmas would keep away all the kids frowns. The forecast called for some snow on Christmas Day 2010, and snow is what it did, but how long had it been?
December 25, 2010 hasn't been officially classified as a "White Christmas" because there wasn't at least one inch of snow on the ground at 7:00 AM that day. That is the classic definition of a White Christmas. It did snow later that day, and continued into the next day, eventually dropping 4-10 inches of snow across the peninsula. It turned out to be a blizzard across New England, but most of the snow fell the day after Christmas on Delmarva. Below is a look at total snowfall from that storm.
So while there was some snow on the ground Christmas Day 2010, it didn't quite reach "White Christmas" criteria. So, that would make Christmas 1989 the last time Salisbury, MD had a White Christmas. It did not snow that day, but there was exactly one inch of snow on the ground that morning at 7:00 o'clock. It was leftover snow from a previous storm. Below is a list of some of the snowiest White Christmases ever on Delmarva. These numbers represent how much snow was recorded at 7:00 AM that Christmas Day.
The chance of Delmarva actually having a White Christmas is quite low (less than 10%), so they are very rare. And that makes sense since 1989 was our last one.
Historically, the weather varies greatly from Christmas to Christmas. The average high and low temperature is 46° and 28°. The warmest Christmas was back in 2015 with a high of 75°, and the coldest low temperature on Christmas was 2° back in 1989. The most snow that ever fell on Christmas Day, not what was measured at 7:00 AM, was 3 inches back in 1962.
This year we're expecting a mostly sunny and mild Christmas Day with a 0% chance of a White Christmas. Christmas Eve Night will be a cold one as Santa delivers all the gifts. But watch out for 47 ABC Meteorologist Elves dancing around in the sunshine. It could get pretty crazy! 😉
Although we're not expecting a White Christmas this year, I'm sure Delmarva will still be full of good cheer. Santa will still do his thing and exclaim as he drives out of sight, "Happy Christmas to all, and to all a good night!"