Tips for staying safe with dangerous beach conditions present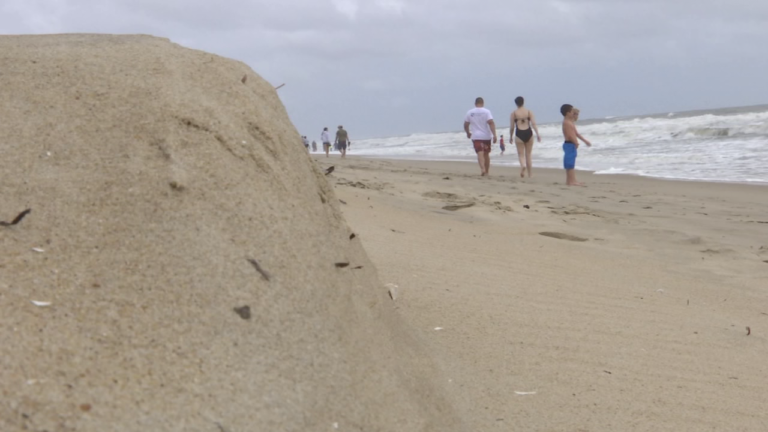 OCEAN CITY, Md. – Mother Nature caused a pretty steep shelf of sand to form on the beach in Ocean City over the weekend, and that presented dangerous conditions to swimmers.
Lieutenant Ward Kovacs with the Ocean City Beach Patrol said, "When we have Nor'Easters or heavy surf like we have today, it poses several dangers to people if they're not careful."
Shelves in the sand can prove to be dangerous for beach goers.
Lieutenant Kovacs said, "If they walk too close to the edge, especially if they're elderly or they have a frailty of some type, if they walk too close to the edge that whole shelf can collapse and they can wind up falling pretty far onto the hard sand."
For people playing in the water, the threat of getting hurt is even higher when shelves in the sand are present.
Lieutenant Kovacs said, "If you're trying to ride the waves obviously at high tide, that wave can then take you into that sheer wall of sand."
To stay safe, you're encouraged to avoid walking along the edge of a sand wall, and avoid body boarding until the wall washes away.
On top of the sand walls, large waves were present in Ocean City over the weekend and on Monday, presenting a real danger to swimmers.
Lieutenant Kovacs said, "People who go into the water on a day like today may not want to become swimmers. They may not know how to swim, but if they want to go out to chest deep water or something and then they get knocked down by a wave, they're going to become swimmers whether they wanted to be swimming or not."
That's why Ocean City Beach Patrol is urging swimmers to keep your feet in the sand until a lifeguard is in the stand.