District III (DE) falls to Southwest (TX) in World Series championship game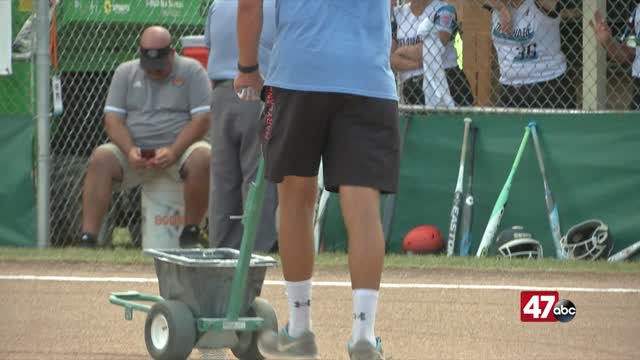 ROXANA, DE- After nearly 2 and a half hours of delays (rain and lightning), the Southwest regional champion from Waco, Texas used a 3-run third inning and a two-run sixth frame to propel themselves to a world championship over District III (Sussex County, DE) 7-5 on Sunday afternoon at the Senior League Softball World Series.
District III (5-2) took an immediate lead in the top of the first off a 2-run double by Jada Evans. Southwest (6-1) answered back with a strong third inning. After a Hannah Boechetter 2-out RBI single, Kennedy Parker lifted what looked like a can of corn to centerfield, only for the would-be third out of the inning, to be dropped. The error would prove costly as two runs would score, allowing Southwest took their first lead of the game at 3-2.
The Waco, Texas representatives stretched their lead in the 4th, drawing back-to-back hit by pitches to take a 5-2 lead into the fifth. District III would gain two runs back on a score on a passed ball by Carlie Venables and an RBI single from Kaegen Brittingham, cutting the lead to 5-4.
Southwest would once again respond in the bottom of the sixth with two more runs, stretching their lead to 7-4. Kate Evick would strike a solo home run in the top of the 7th–cutting D3's deficit to 7-5, but Southwest pitcher Madalyne Martinez would register her 10th strikeout on the game's final play–giving Waco the 7-5 championship game win.