Hyatt Regency Chesapeake Bay Resort is serving up some tasty dishes to pair with some holiday events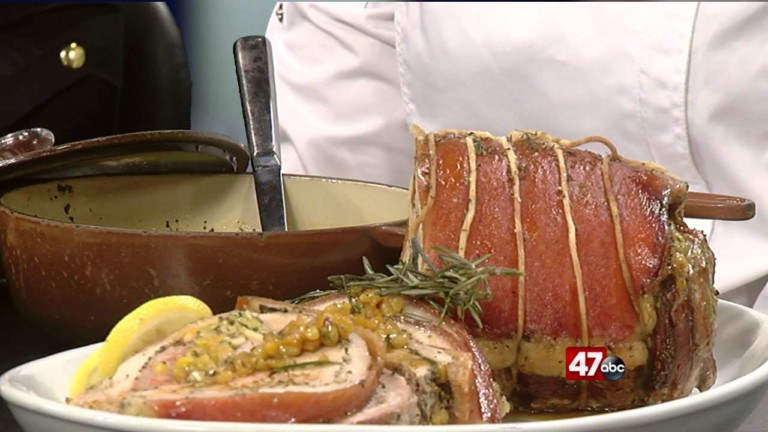 CAMBRIDGE, Md.–Get your fork and knife ready because the Hyatt Regency Resort in Cambridge is serving up some tasty dishes this holiday season with the help of a new Executive Sous Chef!
47 ABC's Erica Murphy was joined by Keisha West, the new executive sous chef, and Nicole Vienneau, their communications manager, to talk about some tasty food and family fun events.
Throughout the month of December, children will get to visit with Santa, work on their wish lists, decorate cookies, and even watch a movie while floating in the indoor pool!
Adults will have their own kind of fun too, with things like the Ugly Sweater Contest and Holiday Mixology classes at Eagle's Nest Bar & Grille.
During Good Morning Delmarva, Keisha brought in a Porchetta which is pork belly with loin attached.
For more information on Hyatt Regency's events and menu items you can call 410.901.6400 or log on to Chesapeakebay.regency.hyatt.com
Want to learn how to make the porchetta? Check out the recipe below courtesy of the Hyatt!
(makes 4-6 servings)
Porchetta cut of pork (pork belly with loin attached ) or you can use  1 each pork loin a slab of pork belly butterflied
Thyme ½ cup chopped
Rosemary ½ cup chopped
Sage ½ cup chopped
Lemon zest (2 lemons)
8 ea Garlic cloves
½ cup caramelized Fennel
½ cup chopped Rehydrated Turkish apricots
¼ cup toasted Pine nuts
1 cup Madeira wine
Salt & Corse black pepper
Butchers twine
Chop all the fresh ingredients and zest the lemon
Saute all fresh ingridents including chopped Turkish appricots and deglaze with madeira until mixture is dry or "Au sec" (meaning dry or reduced in french J )
Cut the skin and butterfly the pork mid-section
Stuff the pork mid-section with the spices and wrap it in the skin.
Using butchers twine, truss porchetta evenly tying 2 inches from each Knot
Place the porchetta in the Oven at 150 degrees for approximately 3 hours
For the last 10 minutes allow the pork skin to crisp on the outside at 375 degrees until browned
Let the prochetta rest for at least 10 minutes and  – Enjoy the feast!!!!!
You can garnish this beauty with an apricot glaze, fried herbs and sliced citrus