MD tax free week comes just in time for back to school shopping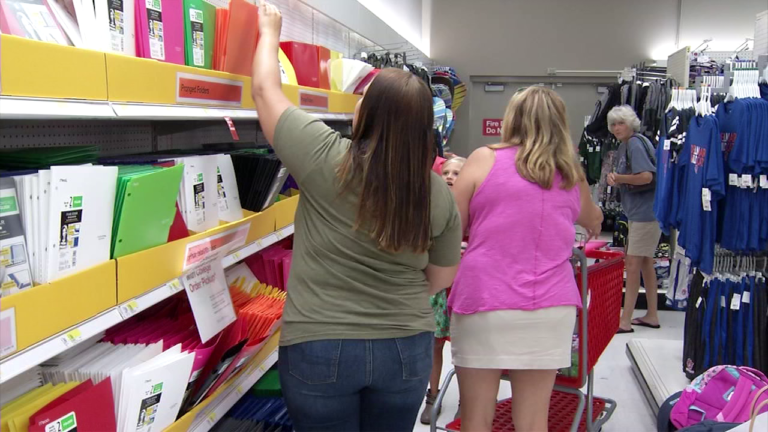 Maryland Tax Free week is here and with it comes savings for back to school shoppers.
Blair Hancock, a shopper said, "Just with the tax not coming up, you could tell the difference in the price."
We all know some school supplies aren't cheap, and that's where these tax exemptions come into play.
Martina Ayers, the Senior Team Lead at Target said, "The stuff [in the school supply section] is selling really fast…we try to have a person back here every day just to keep us full so when the people come in they'll be pleased."
People are stocking up on everything from pencils to notebooks.
Hancock said, "We got notebooks, folders, binders, pencils, markers, more paper."
However, the real savings lie with things like backpacks and clothing items.
Melanie Shrieves, a shopper said, "[My] young man needs pants his legs are super long and everything's too short!"
Backpacks 40 dollars and below will be exempt from all taxes this week.
Any backpack costing above 40 dollars will be taxed after that 40 dollar amount.
This means if you have a 50 dollar backpack, you will only pay taxes for 10 dollars of that 50 dollar amount.
As for things like clothing items and shoes, anything 100 dollars or less will be exempt from taxes, saving shoppers some serious money.
Shrieves said, "It's exciting, we feel like we get to shop a little bit more buy a little bit extra stuff."
The people we spoke to on Monday told us they plan on shopping for back to school supplies during tax free week each year.
Shrieves said, "I think its perfect. It gets the kids in gear for going back to school and same with the teachers and everything."
Families aren't the only ones taking advantage of Maryland's tax free week, local teachers are too.
Teachers told 47ABC this week plays a crucial role in allowing them to get the supplies they need to have a successful school year.
Each year, teachers are responsible for decorating their rooms and stocking their shelves with things like notebooks, pens, highlighters and more, but they don't always have the money to afford all of these items.
Thanks to tax free week, they can save money allowing them to stock up on more of the basic items they need.
Sometimes, however, tax free week just doesn't cut it.
That's where the Wicomico County Education Association comes in.
The association is starting up a new "store" stocked with items donated by retired teachers and teachers who moved away.
Joan Smith, the President of WCEA said, "We've kind of filled up WCEA with those materials. We're getting ready to set them out and have a store for the new teachers after the luncheon…and it's one of those great stores where there's no charge."
The store will be open after their annual luncheon where they welcome new teachers and provide them with gift bags.
Tax Free week will last until this Saturday, so if you're interested in saving some money, make sure you shop now, before it's too late.