Democrats blame Hogan for ECI staffing problems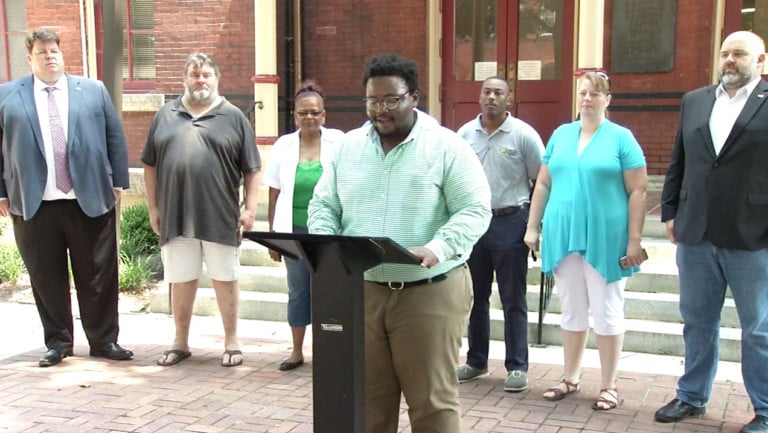 [gtxvideo vid="ESoXwtba" playlist="" pid="9FCH1Fwp" thumb="http://player.gtxcel.com/thumbs/ESoXwtba.jpg" vtitle=""]
In Salisbury, a group of Democrats and advocates held a press conference highlighting the staffing concerns at Eastern Correctional Institution.
The conference was originally set up by shore Democrats, many of them running for office, speaking on their concerns along with former correctional officers.
Collectively the group placed the blame on Gov. Larry Hogan saying one of the things Hogan promised during his original campaign was fixing the staffing issues in state prisons.
Many of them said the problem is so dire that correctional officers lives are at risk and if Hogan cant' fix the problem then they'll elect somebody who can.
John Baker, a retired ECI employee, says, "We're seeing now the biggest problem is the under staffing and our concern is this we saw what happened in Smyrna. We've also, the ones that have been around a long time, saw the other two officers in the state die. We just don't want another dead correctional officer."
A shore Republican on Hogan's campaign, Del. Carl Anderton, explains, "We are working to protect those that protect us and hire more people in there and so it's a big issue and it's one that should not be a partisan issue. It should not be a campaign issue, it should be a practical issue on how to find a solution and we're working towards that."
One former correctional officer, who for a lack of better terms crashed the press conference, pointed to the fact that this isn't a partisan issue saying:
"Everything they just said is false. And the reason I'm saying this is false. They want to blame Hogan. I'm a die hard Republican, Hogan is a 'Republican' supposedly. I can't back him because he puts every one of us at risk and no hiring is being done. It's not three years ago, it's not four years ago. I got all the documentation from five years ago that this has been going on when a Democrat was in office."
Hogan's campaign Communications Director Scott Sloofman tells 47 ABC, "It seems these party bosses haven't read their candidate's plan because Ben Jealous has proposed slashing the public safety budget by half. That would result in as many as 2,000 correctional officers losing their jobs and 3,000 violent criminals being let out onto the streets."