Anonymous letter shakes up candidacy for Rehoboth Municipal Election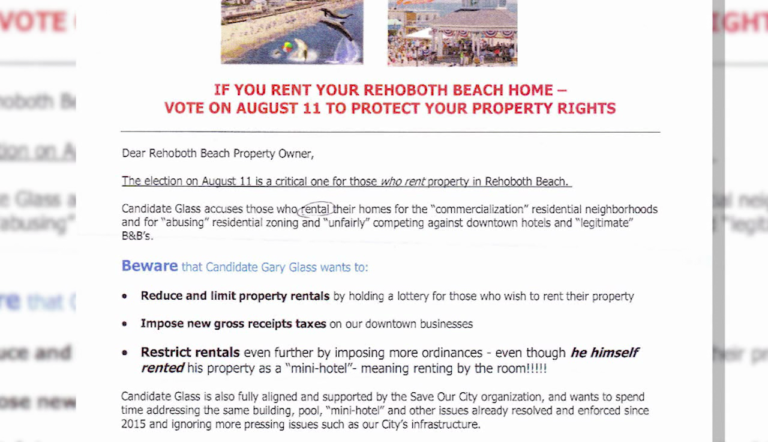 "This must stop this must be the last time this happens in Rehoboth. Rehoboth is better than this,' said commissioner candidate Gary Glass.
Rehoboth beach commissioner candidate Gary Glass says he's fed up with whoever is responsible for passing out this anonymous letter to residents.
"This negative campaigning has got to stop here in Rehoboth I understand from other candidates who run that this is not the first time this is happened and it's not probably going to be the last," said Glass.
Glass says he found out about the letter just days before the municipal election in Rehoboth beach is set to take place. He says he wants answers now. And he wants them fast.
"This is a violation of Delaware State election law. This has to do with the integrity that's why the laws are there to maintain the integrity of an election," said Glass.
In the letter that is now circulating the writer bashes Glass for his alleged views on hot button issues in the town. But it also endorses his two opponents Pat Coluzzi and Richard Byrne. An endorsement that the candidates say they never asked for.
"We are a small town I hate seeing that, I don't know who wrote the letter. It actually endorsed me and Dick Byrnes. But we're better than that I don't need that you know I run on my record my experience so that is the things that I'm running on," said Coluzzi.
"I know very little about this letter I have absolutely no idea who wrote it who sent it who it was sent to its negative I've been running a very positive race," said Byrne.
Now, Glass simply wants whoever's responsible to come forward and to make sure this never happens again.
"If you were involved in this own up to it take responsibility for it and let's put it behind us and let's demonstrate to the community that this is unacceptable behavior," said Glass.
Glass dds that he has since taken this issue up with both the State Election Commissioner and the Rehoboth Beach police department who are now investigating the incident. We did attempt to reach out to commissioner Elaine Manlove for a comment but she was not available at the time.