Rally held to address staffing concerns at ECI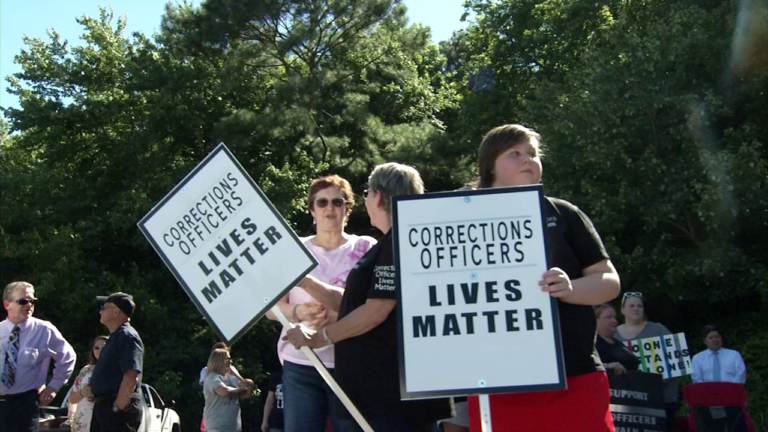 Family and friends of the staff at Eastern Correctional Institution said enough is enough and decided to hold a rally to get the state's attention Monday outside of the prison. Their message, simple. Hire more correctional officers to fix the staffing problem at the state's largest prison.
"That's the main concern right now and ECI is severely understaffed at this time which is leading to the drafting, the mandatory drafting and essentially the hours of overtime that is available," said Kerry Carr, one of the rally organizers.
According to event organizer Sarah Mister, whose husband works at the prison, things hit a tipping point in mid-June when inmates staged a peaceful protest to voice their concerns about a lack of recreational time.
"He called me and he said I'm being drafted, I don't know what I'm walking into and he just wanted to tell me he loved me," Mister said.
For Mister, the drafting has become a regularity. She says her family has been unable to plan things and that her husband has missed significant time with their children.
"He works 7 to 3 and then he'll get drafted for another shift which is another 8 hours, so he won't get home until 11:30 at night and he's exhausted and so there are days they don't even see their dad," Mister said.
After the peaceful protest, Mister had decided she had enough and started the closed group "Support ECI" on Facebook. From there friends and family members of staff shared their concerns about the staffing issue, which ultimately led to them decide to hold the rally to get the state's attention.
47 ABC reached out the state about the rally and they said they empathize with the friends and family.
"They have a message and if they want to get it out through a rally, particularly families, and friends, I think it's important they have their say. We understand their concerns and we share their concerns when it comes to staffing. we need more correctional officers. We are doing everything we can to make sure we get more," said Gary McLhinney, Director of Professional Standards for the state's department of public safety and correctional services.
As of the end of June, ECI was down 94 correctional officers according to the state. But filling that void has been difficult they say because applicants can't seem to pass the state-mandated polygraph test.
As part of their solution to that, McLhinney announced the state was bringing back former assistant warden Ronnie Dryden, to help applicants through the process.
McLhinney, a former law enforcement officer, said by having someone to help applicants more of them would pass similar to the way law enforcement candidates pass their polygraph tests.
"Their pass rate is much higher. It's not because they're getting different quality of candidates, it's because people coming into the profession have someone they can talk to. Don't be scared of this thing, you tell the truth, you'll be fine," McLhinney said.
State senator Jim Mathias (D) and his rival in this years election Del. Mary Beth Carozza (R) were also on hand for the rally. Both said they would consider measures in Annapolis to re-evaluate the test itself and how it's admnistered.
Mathias also added that in a meeting with Lt. Governor Boyd Rutherford last week he proposed an emergency plan that would allow the state to pull correctional officers from county jails and neighboring states to help address the staffing shortage in the interim.