Milton Theatre becomes historical landmark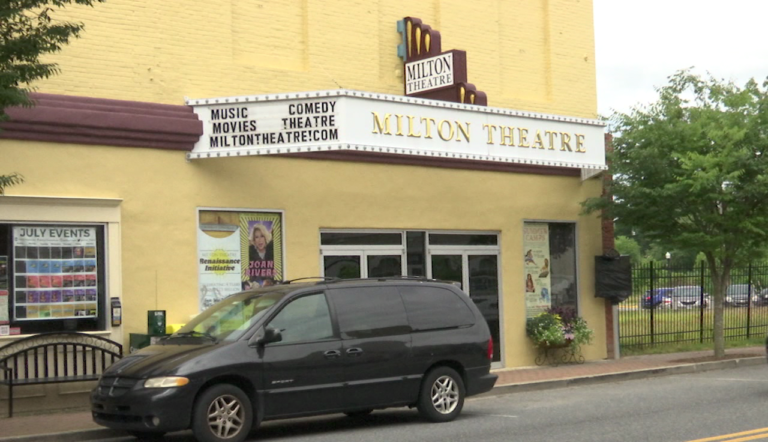 "We always say that walls tell their stories and you can feel that when you walk in here," said theater director Fred Munzert.
If these walls could talk they'd speak of trials, tragedies, and triumphs the Milton theater has experienced over the last hundred years. And those stories are being honored as the theater becomes recognized as a historical landmark in Delaware.
"It's important for us to realize where we've come from, not solely because we need to look towards the future which is what we're doing, but it's always important to know those stories that this used to be the fire hall, it used to be a basketball court, it was a garage," said Munzert.
The century old building has been through a lot over the years including suffering from multiple fires and major floods. Yet its continued to be a staple in the community. Officials say the new historical marker will allow residents to recognize the theaters' strength for years to come.
"We're excited to install that upfront, it's a mark here on this property but it's also a place for people to stop and kind of recognize and remember," said Munzert.
Following Saturday's dedication, officials will also reveal the much anticipated renovation plans for the theater.
"It's a three to five year 2.5 million dollar campaign that is going to be a comprehensive redo of the theater. We'll put a new marquee on, have a working balcony on top of the marquee where we'll be able to have special events and things like that," said Munzert.
Officials add that they hope Saturday's event will be a turning point for the theater where everyone can envision a brighter future.
"My hope for tonight is that people come together to just celebrate. To celebrate where we've come from, not just these past four years, but where it's come through over these 100 years but then look into the future and decide what we can do," said Munzert.
Following the landmark dedication, the VIP reception will host catering, live music, a silent auction, plus a gallery featuring the history of the theater.