Lifeguards: Beware of rip currents and watch for beach patrol signals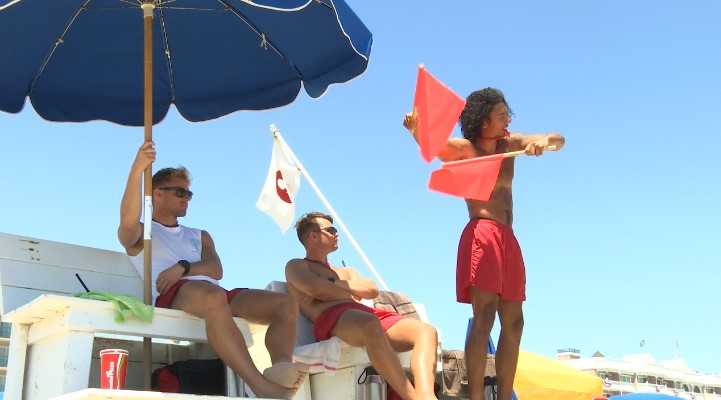 Rip currents in Rehoboth Beach have caused a surge in lifeguard rescues over the past weekend, meaning beach patrol has had to be extra vigilant.
Life guards say a rip current is where water is being pulled back into the ocean from the shoreline presenting a danger for swimmers to get caught in its path.
To avoid being caught in a rip, Rehoboth Beach Patrol advises the first thing you should do, before even entering the water, is speak to your lifeguards about the swimming conditions, or keep your eye out for those flags.
What does a rip current look like?
Life guards say the water will look foamy, bubble and appear lighter in color than the rest of the ocean.
If you choose to enter the water and you find yourself being swept out to sea, Rehoboth Beach Patrol says it's important to stay calm.
Rehoboth Beach Patrol Captain Kent Buckson said, "The best thing is for people not to panic just let it carry you out, because once you start to panic then you start to get disoriented and can possibly go under."
Times like these are when the Rehoboth Beach Patrol's whistle and flag communication system comes in handy.
Captain Buckson also said, "What we have in place is a radio per chair. Plus, the flags, and the whistle. That helps communicate to the public, and to the life guards on that chair, and keeps people safe."
First, to address the flags, colored flags are used to indicate ocean conditions for swimmers.
On Tuesday lifeguards raised a green flag, indicating a low rip threat.
There are also red and double red flags indicating rough surf. Sometimes rough surf means no swimming at all.
On top of that lifeguards also use orange flags at their chairs to direct swimmers.
If u hear the life guard blow the whistle and point the flags stop pay attention and swim in the direction they're pointing you to.
Buckson also said, "Most of the flag and whistle blowing is to keep people out of harms way"
Many parents we spoke to say they depend on lifeguards to keep them in the know of any dangers and keep their kids safe.
Dave Foote a Rehoboth Beach visitor said, "You got to be extra vigilant and watch them [children]."
Nick Rosello another beach-goer said, "You have to at least listen to the lifeguard; they're pretty much there to protect us."