Laurel becomes one step closer towards waterfront revitalization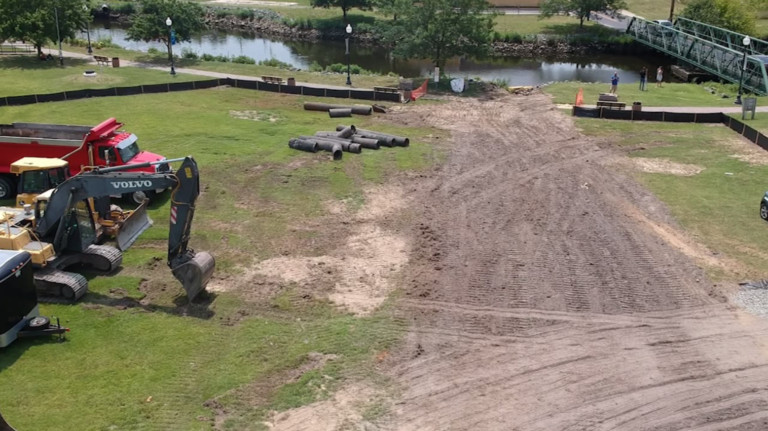 In Laurel, officials and community members are celebrating the start of a major revitalization project that was years in the making.
It's a series of projects designed to bring more people, businesses, and activities to the town's beautiful Broad Creek waterfront.
"What's exiting is we're finally turning soil after a five year process of meeting with community members and securing what was their vision for this waterfront parcel," explains Ed Lewandowski, Coordinator for University of Delaware's Sustainable Coastal Communities Initiative.
It may not look like much now, but this is a big deal for the Town of Laurel as they begin the first of many projects planned along Broad Creek's waterfront.
"This is part of a phased process where we're going to have a nature-based play area. We're going to hopefully have some residential cottages, we'll have an environmental studies area, a beautifully landscaped well lit safe river walk, as well as some pop up shops outdoor dining," adds Lewandowski.
It's a vision many hope will not only bring visitors to the area..but also be a place that local families can come and enjoy. Something residents say the town desperately needs.
Laurel resident Ton'ya Sosa says, "It will actually bring more attention to Laurel as one cause like there's not a lot of stuff to come here and see. I mean people go fishing and stuff like that so it will be good to add more things, to have Laurel more vibrant."
"It's going to connect everything. It will connect the Boys and Girls Club, we'll have a walkway come into the nature-based playground and the walkway for the Ramble will connect to Roger C. Fisher Park," explains Laurel Town Manager Jamie Smith.
And this first phase taking place is huge for the creek's water quality. Right now workers are constructing a wetland and much needed vegetation in this area, which will soon be known as Tidewater Park.
"All those rooftops all the asphalt that currently isn't treated and just running off directly in the creek, that will all be treated. So nutrients like nitrogen and phosphorous will be removed and those are common causes for algae blooms which are problematic in our estuary waters," says Lewandowski.
This project won't just help with storm water management but they hope it will also be a huge economic boost for the area.
Officials tell us it will be years until the entire vision is completed but the environmental efforts happening now are a big first step.