Supreme Court upholds Trump travel ban; lawmakers react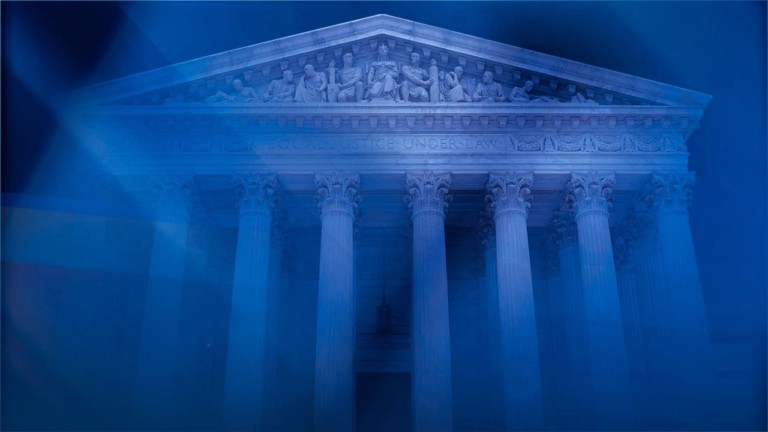 Delmarva lawmakers react to the Supreme Court's ruling on the Trump Administration travel ban.
On Tuesday, the United States Supreme Court has upheld President Donald Trump's ban on travel from several mostly Muslim countries, rejecting a challenge that it discriminated against Muslims or exceeded his authority.
The 5-4 decision Tuesday is the court's first substantive ruling on a Trump administration policy.
According to the Associated Press (AP), Chief Justice John Roberts wrote the majority opinion, joined by his four conservative colleagues. Roberts wrote that presidents have substantial power to regulate immigration.
The court may have signaled its eventual approval in December, when the justices allowed the policy to take full effect even as the court fight continued and lower courts had ruled it out of bounds.
President Donald Trump posted the following to Twitter: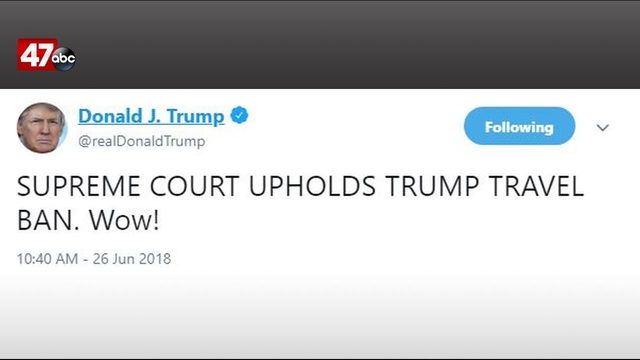 Below are reactions from local lawmakers regarding Tuesday's ruling:
In a statement, Senator Tom Carper (D-Del.) says, " Let's be very clear. Despite today's disappointing ruling, the facts remain the same: categorically denying a group of people entry to this country on the sole basis of their religion and nationality is uninformed, un-American and unwise. Do not be fooled. This policy does not make our country safer. It hurts our alliances with other countries that have been with us on the front lines of the war against ISIS. It fuels the rhetoric of radicals and extremists around the world and strengthens their narrative that the West is waging a war against Islam. It also damages our credibility with Muslim communities in our country that we partner with every day in order to ensure extremism does not take root here at home."
Rep. Lisa Blunt Rochester (D-Del.) says, " The Supreme Court's decision to uphold the administration's Muslim ban is deeply disappointing and runs counter to our American values. Time and time again, President Trump made clear his intent to target people for their religious beliefs or country of origin, and the court has legitimized this discrimination under the guise of national security. The Muslim ban and religious tests will not make America any safer and instead gives terrorists who seek to harm us a recruiting tool. As Americans, we must continue to fight for our values and take a stand against these harmful and dangerous policies."
Senator Ben Cardin (D-Md.) says, "This decision is a major blow to American values, the rule of law, and our country's standing as leader of the free world. Essentially, the Court has said that a religious litmus test can now be used for granting or denying foreigners the ability to travel to our country. The ramifications are spine-chilling and further dim the lights of the 'city on a hill.'
On Tuesday, Rep. Andy Harris (R-Md.) issued the following statement:
"The national security of the United States is President Trump's top priority. I applaud the Supreme Court's decision to uphold the President's constitutional authority to implement national security and immigration policies that keep the American people safe. The countries affected by this decision have consistently failed to meet visa security requirements, and worse yet, some of these governments openly sponsor terrorist activities. The Supreme Court ruled today in favor of our national security, and on the side of the Constitution."
Senator Tim Kaine (D-Va.) says "I'm disappointed that the Supreme Court upheld President Trump's discriminatory travel ban. President Trump's intentions with this ban are clear: to stoke fear, perpetuate stereotypes, and make our immigration policy more about politics than national security. Discriminating against individuals based on their religion or country of origin without evidence that the person poses a national security threat doesn't make us any safer, and it undermines our core values. Congress should pass legislation to revoke this ban."