Primary candidates take the stage ahead of primary elections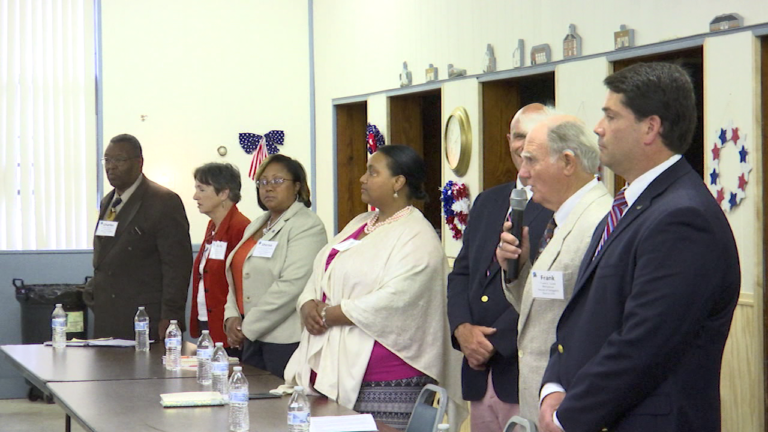 Primary races on the eastern shore are starting to heat up with the weather, and it was a big night for for candidates in Vienna Thursday.
Three incumbents are facing challengers in their primaries in Districts 37A and 37B, and they took their place front and center before the people to explain what they can bring to the table for their constituents.
"I'm one of a handful of business owners in Annapolis quite literally out of 141 delegates who know what it takes to create jobs and that is to get government off our backs and that's my fight up and I'd like to continue it," said Delegate Chris Adams.
Delegate Adams is one of two GOP incumbents in District 37B, he's running on a record of creating jobs, lowering taxes and lighter regulations in his work in Annapolis.
But there are two new comers to the primary.
Mimi Gedamu says continuing the fight against the opioid epidemic is the biggest issue facing her district.
"The economy is really where the root of all of these issues are stemming from. But as long as this opioid epidemic is paramount in the community we can't build our economy because we can't find viable employment."
Keith Graffius is also challenging for 37B and has held a seat on the county chamber of commerce as well as hosted countless fundraisers for local watermen. He is hoping to help those watermen as a delegate.
"We have H2B, which is a federal issue, on a state level we can help there too. Helping with our watermen, and help bridging the gap between our traditional watermen and aquaculture which is a new economy."
At the forum, incumbent Delegate Johnny Mautz stood up to voice concerns surrounding the environment.
"We're having these thousand year rains on a yearly basis, ten year rain on a yearly basis. But we're not talking about that in Annapolis, we're fighting over who can catch an oyster and where."
Delegate Sheree Sample-Hughes is the democratic incumbent in 37A, and prides herself on her ability to continue to listen to constituents on hot button issues such as the effects regulations have on local businesses.
"They have had regulations that have been placed on them, some that I have been very much in favor of, but some that are of concern that I have stood up and fought against."
When the topic of minimum wage came up the four republican candidates voiced concerns for business, all standing against a hike in pay, citing economic differences for the eastern shore compared to across the bridge.
But both democrats running in 37A agreed, saying workers deserve a raise.
"Go with me, take a walk to the communities that's suffering because we have folks that don't believe after all these years that they should be able to make a decent living wage," said Charles Cephas, Sr., democratic candidate for District 37A.
The candidates for the general election will be decided in the primary on June 26th.
Four other candidates were on hand, but are running unopposed in their primaries. District 37 incumbent Republican Senator Addie Eckhardt and her democratic challenger Holly Wright. District 37A Republican Frank Cooke and District 37B Democrat Dan O'Hare were also on hand.