Local horse rescue looks to bring life after racing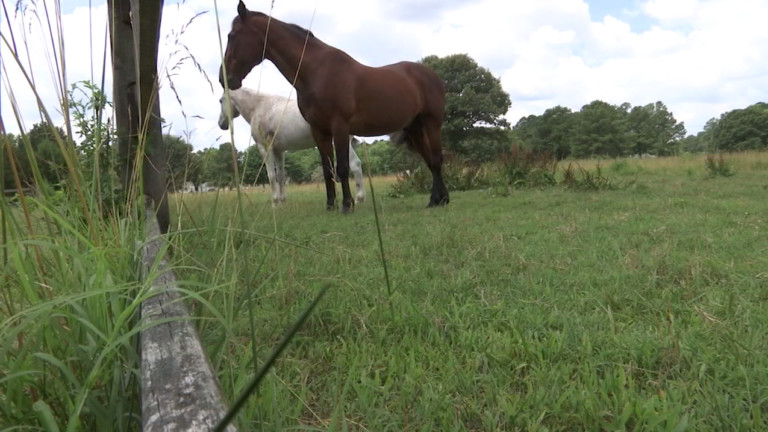 "Just because they can't race doesn't mean they can't do anything else. They can do so much else."
Nice Threads and Tie are both retired race horses and lucky ones at that since many retirees don't get to live out their lives on a pasture.
"Well a lot of them do go to slaughter, some of them go directly to slaughter. Some owners try and reach out and find a home, but a lot of owners just don't have a place to keep them," explains Lorraine Truitt, Horse Lovers United President.
That's why horse rescue organizations like Horse Lovers United are trying to give these retired race horses a new life because even though their racing career might be over, these four-legged friends still have purpose.
"We had one horse we took into our program years ago. He had only made $35 dollars racing in his lifetime, but a girl adopted him and taught him to barrel race and he just filled scrapbooks of ribbons for barrel racing."
Despite being a race horse, many can be retrained and experts tell us it doesn't even take long.
"We find trainers that can train all disciplines and they will take one of our horses or one of the owners that needs to find a home and retrain them. We've had trainers in the past just to teach them basic pleasure riding in less than a month. The makeover we give the trainers three months."
And even if they can't be ridden, they can be that bond someone is looking for.
"To live their life out in dignity and horses have always helped us since the beginning of time I believe and if they can't ride they can do something, like they can give emotional therapy," adds Truitt.
Horse Lovers has several horses even some retired race horses that are up for adoption and looking for a forever home.
If you're interested in helping horses in the rescue process, contact Lorraine Truitt at 410-749-3599 or via e-mail here.