Local businesses concerned about spray-painting performers on boardwalk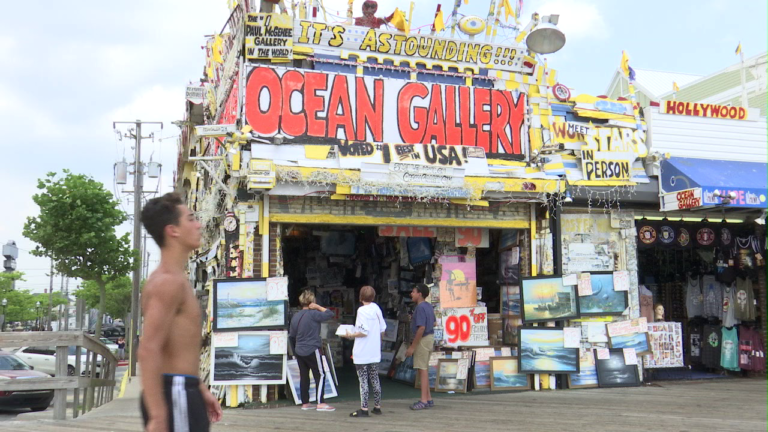 What started as an artistic display on Ocean City's Boardwalk is now something else entirely, it's become a controversial performance that has local shop owners up in arms.
Joe Kroart, the owner of Ocean Gallery World Center said, "We have other people that are younger people, 45 years old and stuff, that are experiencing dizziness and sore throats and it's deplorable, there's nothing we can do about it."
Kroart says the wind coming off the ocean has been blowing the spray paint fumes from a boardwalk performance right into his shop.
"We get the full effect of that spray most of the time, depending on the wind," Kroart said.
Kroart told 47ABC he isn't alone, the fumes are spraying toward nearby restaurants as well.
Kroart said, "The people with food businesses have been really frustrated over the last two years, because those fumes, that spray gets on the food that they're producing."
Some local shops said they wouldn't mind the spray-painting boardwalk performers as much if they used water-based non-toxic eco-friendly air brush spray instead.
"There are water based spray paints that could be used and it would solve the problem," Kroart said.
Shop owners aren't just worried about themselves or their products, they're also worried about the people who watch these spray painters perform.
Since the spray-painting takes place outdoors with plenty of ventilation, many people we talked to on Tuesday believe there isn't a real health hazard.
Gene Gorski, an Ocean City visitor said, "In the open air like this, I can't imagine that it's going to be a problem for anybody that is involved."
Another pair of visitors we spoke to said, "We're outside, it's just floating off into the atmosphere. People are getting a show from it I mean, they're making money, whatever they're doing, absolutely. I'm entertained on the boardwalk, people just crowd around them. I think it's good for everybody, I don't really see an issue with the spray paint fumes."
Act Safe, a safety association, said when spray painting, the "greatest exposure will be to the worker performing the spray activity, and others working close by."
Therefore, it is strongly advised that those near spray paint wear respiratory protection.
Kroart said, "All the little children are right up front next to these individuals that are wearing masks to protect their lungs their throat and these poor little kids are standing right next to them and their parents dont realize the hazard."
Joe Kroart says he has been in touch with the Town of Ocean City, and the Town has reached out to the Environmental Protection Agency to see what they can do.
We also reached out to the EPA, but have not heard back.