Four candidates vying to be Worcester County's Sheriff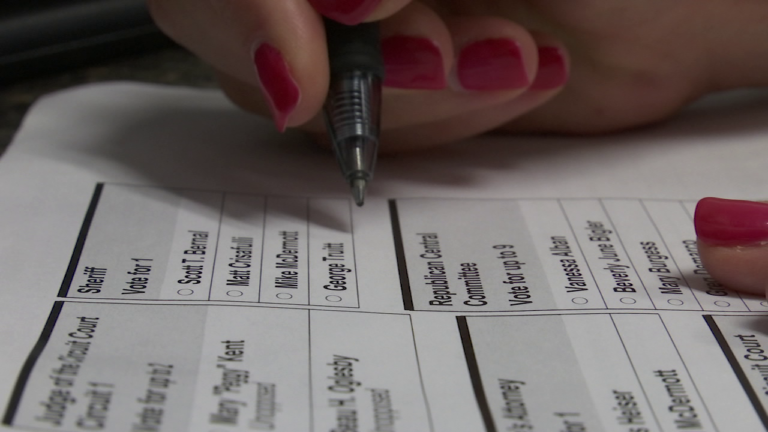 A big position is up for grabs in Worcester County and it can't be decided without your vote. It's determining the next Sheriff for the department.
Their current Sheriff, Reggie Mason, isn't running for re-election after serving two terms. This vote is a major decision since it determines a public safety position.
47 ABC sat down with the four Republican candidates to see why they believe they are the best person for the job.
Scott Bernal is a retired cop dedicated to the Ocean City Police Department for 26 years. He was 18 year when he enlisted in the Marine Corps and then worked for the federal government. From there, his family moved to Ocean Pines and he fell in the area. From there, he worked as the lead officer on the murders of the rainbow condominium case. He says there are many priorities but the main one is to protect our children.
"I will have an experienced command staff and I will hold them accountable and make sure they are doing their job," Bernal says.
Matthew Crisafulli is a sergeant at the Sheriff's Office and has 23 years of law enforcement under his belt. He started in 1995 with Pocomoke City. Since 1999, he's been a DARE officer influencing 18,000 students. Crisafulli says he has the full endorsement of current Sheriff Reggie Mason and the sheriff prior to that. He says the number one issue is school safety.
Crisafulli says, "Our deputies are going to get back into these communities. We are going to re-establish our crime watch areas, we are going to use technology, we are going to be innovative, we are going to do things in Worcester County that has never been done before."
Mike McDermott is a lieutenant at the Sheriff's Office and has been a law enforcement officer for 36 years with 30 years at the Sheriff's Office. Throughout that time, he says he's led every division.
"I believe that my resume is superior to the folks that are running and I'm willing to put it out there and be available to these folks 24/7, as I've been fort he past 36 years," McDermott tells us.
Last but not least, George Truitt, who is a security officer for the mobile methadone unit. Truitt's been in the business for 38 years. Truitt says he wants the deputies out of the cars and into the communities and interacting with the community. He says to work on the drug problem in the county and school safety.
Four men, four walks of life, four different goals, but they all have similar priorities that they want to attack head on: to make our school systems safer and to fix the drug problem at hand.
According to Bernal, they have companies willing to donate ballistic hardware, software, ballistic doors, locks and windows to schools as soon as possible. The co-inventor of this new technology is a Stephen Decatur graduate.
Crisafulli says he will fight tirelessly to get full time deputies in schools. "Not only will they be there to protect the school population but I will have them cross trained so they can educate our young people."
McDermott tells 47 ABC they have issues with school security since staffing needs are not being met. Beyond that they have needs for recruitment of personnel because that's getting hard to recruit qualified candidates. He also wants to work on the opioid issue in Worcester County.
"And I want to work with the Worcester Warriors and coordinate and become a primary entry facility so we can get the help we need or lock up people that need to be locked up," McDermott says.
Truitt tells us that he is working on the drug problem in the county and in the schools. He plans to sign a canine to the schools. He also wants to look at the feasibility of putting a mobile ballistic wall, where it can be used in the classroom to protect kids.
If you want to vote, polls open tomorrow at 7 A.M. until 8 P.M. on June 26, 2018.