UPDATE: Police: $1.3M stolen in robbery of armored truck in Salisbury; three arrested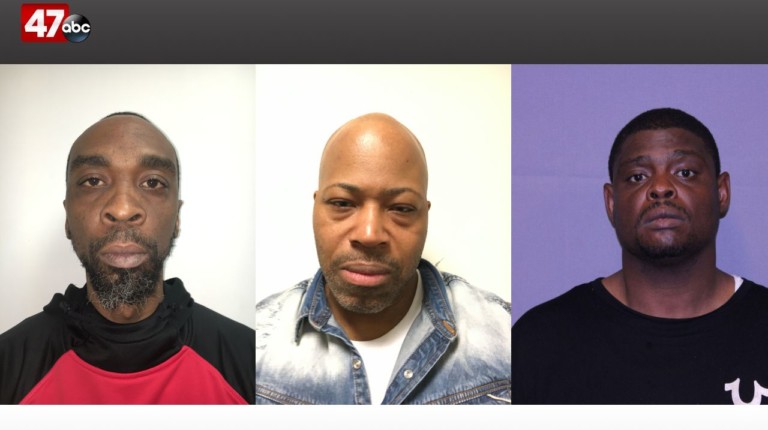 Three men are in federal custody after police say they made off with over one million dollars during a January robbery of an armored truck, in Salisbury.
The United States Department of Justice for the District of Maryland says 48-year-old Orneth Patrick South, of Charlotte North Carolina, 38-year-old Ryan Shevin Smith, of Princess Anne, and 42-year-old Michael D. Watts, of Brooklyn, NY, were arrested and charged in connection with the robbery of the Loomis armored truck, in Salisbury.
The Salisbury Police Department says the three men were involved in the January 22 robbery that happened at SECU, on Mt. Herman Road. Authorities confirm to 47ABC that the driver of the Loomis truck was the only Loomis employee present at the time of the robbery.
On Tuesday afternoon, officials released details on the crime at a Salisbury press conference, where they reported that $1.3 million was stolen during the robbery. Federal authorities say on April 10, Smith, of Princess Anne, was arrested on an outstanding warrant for an alleged armed robbery of a Florida pawn shop. Police say South was arrested on April 20, in North Carolina. Watts was arrested on May 15, in Queens, NY.
All three suspects were charged with interference with interstate commerce by robbery, use, brandish, or possession of a firearm during violence, and conspiracy. They are currently in federal custody in Baltimore, MD. In the early stages of the investigation, four suspects were reported to be involved in the crime. The Salisbury Police Department clarified on Tuesday, that there were only three individuals involved in the robbery.
Federal authorities say South, Smith, and Watts face a maximum sentence of 20 years in prison for the robbery, and up to life in prison for the firearm charge.
—
Three arrests were made after police say the suspects robbed an armored truck five months ago, in Salisbury.
On Monday, the Salisbury Police Department says their officers and the Federal Bureau of Investigation arrested three individuals responsible for the Loomis Armored Truck robbery, in Salisbury. Police say on January 22, around 7:15 AM, officers responded to SECU, on Mt. Herman Road, for a reported robbery. Once on scene, police learned that a male Loomis Armored truck driver was approached by four men with handguns, while filling up the ATM machine with money.
According to the report, the driver's hands were bound and the suspects made off with an undisclosed amount of cash and the driver's company issued handgun. The suspects fled the scene on foot.
During the robbery investigation, the reward amount offered reached $50,000. In February, investigators also released an audio recording of the suspects which was captured during the robbery.
Authorities are a expected to release details on the three arrests later Tuesday afternoon.