Delaware asking beekeepers and farmers to protect pollinators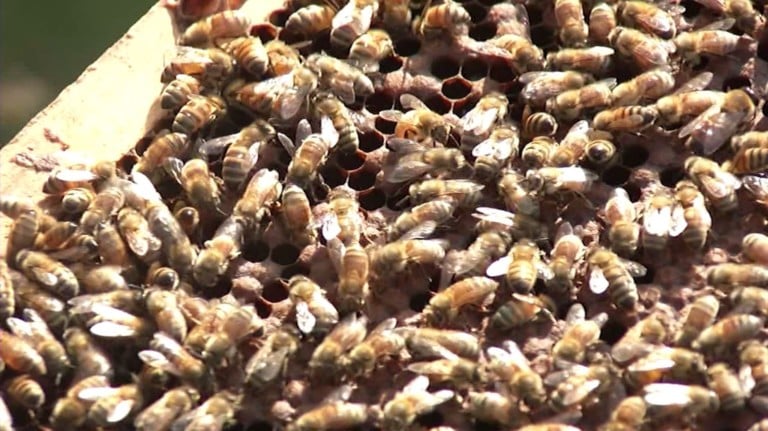 "Without honey bees we wouldn't have the very foods and fruits that we enjoy, we wouldn't have peaches, blueberries, we wouldn't have sunflowers everything we enjoy," says Michael Christopher Hudson, from Honeybee Lake Apiary in Frankford, Del.
Without bees there wouldn't be any crops to attract people to farmers' markets. Places that are all about homegrown and fresh local produce. Crops that generate over $35 million for Delaware alone.
Lenore Brady from Chrissy Bee's Honey explains, "Bees are important for any agriculture and to pollinate certain crops you need bees for pollination. Bees are the lifeline of the food supply that we have here in Delaware or across the whole country."
That's why the state's Department of Agriculture is making sure these pollinators are protected from pesticides with the Pollinator Protection Plan. It's plan that makes sure farmers, beekeepers, and even landowners are aware of each other, which is a crucial part to protecting the bees.
"Not only is there a side effect if they get it on to their bodies and they bring it back to the hive and leads to killing the queen, but it also does things like when it's in their body and they bring it back to the hive, there's more than a likely chance it's going back into things like honey," explains Hudson.
"When the farmers are spraying they let us know, we move our bees if they're pollinating so we're constantly in contact with the farmers," says Brady.
To better communication between all parties, the DDA started using DriftWatch, so pesticide applicators even mosquito sprayers know where the hives are located.
"DNREC houses the mosquito control spray zone notification system which they oversee, but that specifically just works for the mosquito spray. BeeCheck is where farmers can go on applicators to see here the bee colonies are located," explains State Apiarist Meghan McConnell.
It's a tool they are hoping more beekeepers and farmers use so the bees stay busy.
"The more we talk, the more we communicate the better it will be for both the bees and for us that reap the benefits of their pollination," exclaims Brady.
If you're a beekeeper in Delaware, the DDA is asking you to register not just with the state because that's the law, but also to DriftWatch, a website that shows farmers who are planning on spraying pesticides where beehives are located.
DriftWatch now has two free apps for your phone, BeeCheck and FieldCheck, to make it easier to check for bees on the go.
So far there are already 289 registered beekeepers in the state with over 5,000 colonies, but only 77 have registered with BeeCheck.
But the good news its easy to sign up, McConnell explains, "First step to register a hive is make sure you are registered with the state apiarist, then you can go ahead and log on to drift watch and you can get their by www.driftwatch.org. You can register on this site and drop your hives on the map so that the applicators know where your hives are."
DNREC also has the Spray Zone Notification System which sends an alert by text, phone, or email of upcoming sprays for registered users.