Amid slow start for crabbers, young crab population looks promising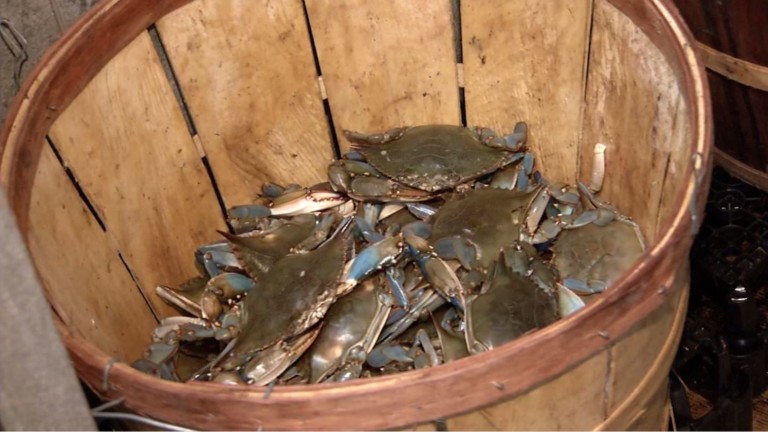 "So far this year they've been very small, very scarce, very high priced," says Al Catrino, owner of The Crab Stop in Ocean City.
Right now crabbers are finding that there's just not a lot of crabs. It's not what you want to hear this time of year in Maryland.
"They're beside themselves. The local people in the bays and Maryland are bringing one or two bushels a boat," says Catrino.
This isn't a big surprise to Maryland's Department of Natural Resources, they actually expected this after their latest winter dredge survey results.
"What we saw this winter in the survey was that the adult crabs, males and females, were below average. The abundance kind of dropped off from last year," explains David Blazer, DNR Director of Fishing and Boating Services.
After dredging over 4,000 different sites along the Chesapeake Bay DNR got a good idea of what the crab population looks like.
Due to winter weather and below average rate of crabs last fall, "We're just kind of in that mode that poor year class as it goes through the system, we're going to have a slow start not only because of the winter we've had and the cold spring that we've had, but the crabs aren't there in high abundance so it'll start off slow," explains Blazer.
But despite the slow start to this crab season, it's not going to stay that way for long.
"The good news is that we found a lot of small crabs so those two and a half inch or less inch size crabs, they improved they increased by about 34 percent."
Which means those crabs will be able to enter the fishery in the coming months.
Catrino says, "Mother nature took over and changed their schedule. I think we're going to have nice crabs in July and August and September and October, but for an early start it's going to be a little hectic."
DNR will also observe the ecosystem to get an idea of how healthy the crab population will be.
They found that 2017 was a record-breaking year for underwater grass in Maryland's portion of the Chesapeake Bay.
An annual survey showed over 60,000 acres of underwater grasses were mapped in Maryland's tidal waters, which is a five percent increase from 2016 and good news for fisheries.
"Bay grasses have been improving in the last couple years. We're at really good levels, improving levels so that's exciting you know in the fisheries management world the habitat is critical. The better water quality we have the more habitat, the better the fisheries, the oysters, the crabs, the striped bass," explains Blazer.
This is the fifth year the state has seen an increase in bay grasses. DNR believes this shows major progress for Maryland in improving and restoring water quality throughout the Chesapeake Bay watershed.