Hundreds Participate in First Ever Salisbury Marathon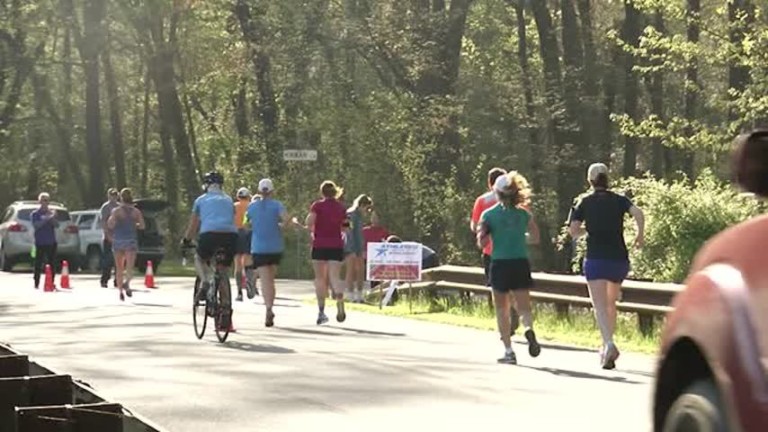 Hundreds of people young and old, of all different shapes and sizes took to the streets of Salisbury on Saturday to take part in the city's first ever Salisbury Marathon.
"I'm stoked to be back in Salisbury again, I haven't been here since I graduated and I was just really happy to kind of come home and run this race," said half marathon runner Lauren Depaul Barlow.
And among those participating in the race were some familiar faces.
"My mom's here and she's also excited to run I believe this is like a last minute decision by her but she's a marathon runner, been doing this a long time," said 47 ABC anchor Ryan Eldredge.
"I'm super amped I mean I'm out here with some good people Geoff Harris, Ryan's running the full marathon I'm just amped that this is actually happening in Salisbury, Maryland, I'm excited to go," said 47 ABC anchor Julian Sadur.
47 ABC employees were ready to take on the 5k, half marathon, and marathon by storm.
"We've been training…some…we're going to get there and we're going to enjoy the celebration afterwards," said 47 ABC sports anchor Geoff Harris.
"We're ready to go because its on social media and I can't back out now, guys catch you at the finish line," said Sadur.
Participants ran all across Salisbury,and at each mile volunteers were there offering water, food, and encouragement to keep the runners going.
"It was just electric, you passed the university, people were everywhere screaming it was so much fun," said half marathon runner Austen Cave.
So how exactly did our friends on the big screens turn out?
"I'm really tired, I'm happy to be done caught some mean cramps in my legs right now but we did it baby, we did it, we're here," said Sadur.
"My legs hurt, I'm really proud that we were able to finish," said Harris.
"I'm not going to say I got to run with my coworkers because they left me, everybody finished before me, it was good to start with my coworkers," said 47 ABC sports anchor Travon Miles.
And the mother and son duo conquered the 26.2 mile race.
"I'm pretty happy given the conditions today, it was really hot, my knee was just killing me but my mom killed it," said Eldredge.
"I finished, it was good, it got really hot at the end, I feel pretty good now," said Ryan Eldredge's mother Victoria Eldredge.
"My mom gave birth to me and still beat me in the marathon so," said Ryan Eldredge.
One by one other runners crossed the finish line, and showed just how strong the Salisbury community is together.
"I saw so many amazing stories here today, people pushing people in wheelchairs, people with disabilities, their support teams, so many people came out to Salisbury and I am just so blown away that something so special could happen right here in our backyard, it's truly amazing," said Sadur.
After the race, participants received their unique Salisbury marathon medal, cooled off, and enjoyed some good food and music.