Exclusive first look at SBY Marathon medal designed by local students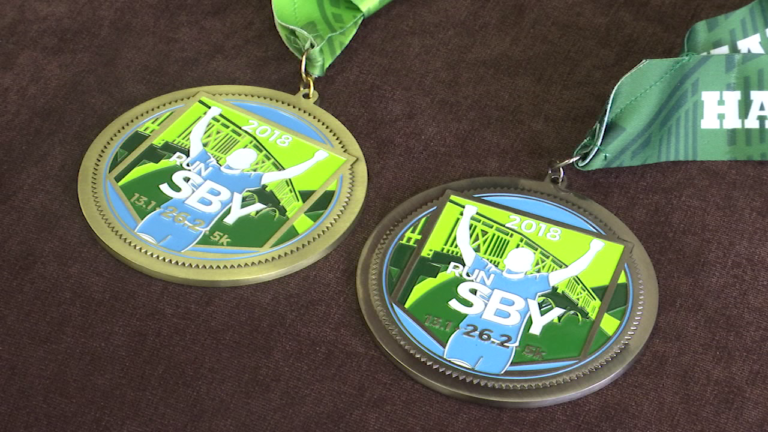 The SBY Marathon is just days away, and the race is expected to bring thousands of people from all over the country to the "Crossroads of Delmarva." Race organizers want to keep things local, so its only fitting that the prize was designed right here in Salisbury.
Jason Chance, the organizer of the SBY Marathon said, "Why not have the kids who know what Salisbury means to them, you know, what kind of signifies Salisbury and like I said, they're local kids, get the community involved."
Jason Chance, the organizer of the SBY Marathon says the idea to have students design the medal came to him early on.
Chance said, "So we reached out to the Board of Ed to the art supervisor, and we had him reach out to teachers."
That's where Erin Davis, an art instructor at James M Bennett High School, came into the picture.
Davis said, "He was asking for local students to create artwork for the medal design and I thought that was the perfect opportunity for my graphic design class to create it in the computer so we turned that into an assignment and we sent them along to Mr. Chance and they chose these two fine young men."
The young men Davis is referring to are Tony Chen and Wyatt Duncan, 11th and 12th graders at Bennett High School.
These students say they're in disbelief that their designs were chosen.
Duncan said, "I thought of all the people who could possibly be designing this thing, you know, I didn't think mine would win."
Both Wyatt Duncan and Tony Chen incorporated elements of Salisbury that they thought resembled the city.
Duncan explained, "The seagulls, I got inspiration from the actual City of Salisbury logo and that's where the colors come from too."
Chen said, "This is the road, and then this is a person on the road trying to race."
The medal features a combination of both Duncan and Chen's unique designs. All that organizers added was the Salisbury City Park Bridge in the background."
Salisbury Mayor Jake Day said, "I'm really excited that the young artists in our community could be celebrated in preparation for and as part of this event."
The only way to get your hands on a medal is to cross the finish line on April 28th.
If you want to register for this year's race, there is still time! All you have to do is visit SBYmarathon.com.