Senator Carper discusses Economic Growth, Regulatory Relief, and Consumer Protection Act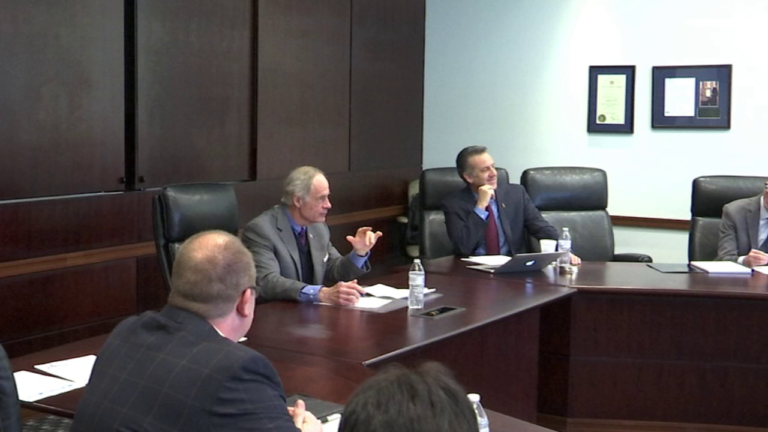 Credit Union workers, small business owners and Senator Tom Carper gathered in Delaware on Monday afternoon to discuss the Economic Growth, Regulatory Relief, and Consumer Protection Act that is making it's way to the U.S. Senate floor.
The Act, also known as Bill 2155, which was introduced by an Idaho Republican, is designed to provide regulatory relief for community banks and credit unions, something that could benefit the economy.
Jerry King, the President and CEO of Dexta Federal Credit Union in Wilmington said, "It will help consumers as well as the economy. Businesses will have more access to borrowings because there will be more financial institutions out there to provide what they're looking for to build their businesses and capitol and grow and get the loans that they need."
Senator Tom Carper (D) says his decision to support this bill comes after years of hearing concerns from banks and business owners.
"For years, I've heard since we adopted Dodd Frank, that credit unions and smaller banks are not able to serve the people they want to serve including homeowners, people who want to buy a house, businesses and others that want to start a small business or grow a small business," he said.
Senator Carper says he feels confident that this bill will make a positive difference. "This will enable them to have just a little bit better opportunity to meet the needs of folks who want to buy a home meet the needs of folks want to get a loan for small business that is really the beauty of this," he said.
Perhaps the biggest concern regarding the bill circulates around compromised safety and security, but Senator Carper says people don't need to worry.
Senator Carper said, "We will still have tough regulation they will still have their own regulators to deal with but I think this gives small institutions a better chance to meet the needs out there."
People who attended the roundtable discussion say they were grateful for the opportunity to have their voices heard by their Senator.
King said, "I thought it was an excellent opportunity for the Senator to hear from not only CEO's, but business account holders and board members on how his support will affect the credit union industry as a whole."
Many of Monday's attendees are hoping the bill gets passed by the senate this week.
If it does get passed, some credit union workers tell us they look forward to figuring out how they are going to implement and unravel some of the things that have been put in place in the past.