State of the State reactions from Eastern Delegation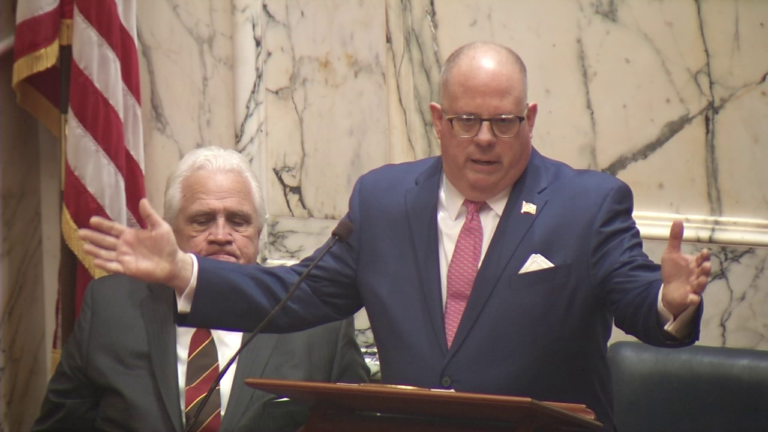 Less than 24 hours after President Donald Trump finished his State of the Union Address, lawmakers in Maryland turned their focus to state's leader Larry Hogan for his annual address.
"Together, we have put Maryland on a new and better path, and we cannot afford to turn back now."
Wednesday, Governor Hogan addressed the Democrat-dominated General Assembly giving his 2018 State of the State address.
HIs speech focused on Maryland's future to a better path, one he says can only be achieved through bi-partisanship.
One key issue, his hope to continue the economic success the state has had under his lead.
Hogan says, "This year, let's work to pass the More Jobs for Marylanders Act 2.0 to expand the reach of this successful program to additional jurisdictions and to other business sectors. This year, let's work together to protect hardworking Marylanders from the impact that the federal tax overhaul will have on Maryland's state and local taxes."
Also included, the proposal of a bill to eliminate taxes on the retirement income of military veterans.
The governor also touched on education. For three straight years, Hogan says he's delivered record investments for educating the state's youth. And this year, he will continue that trend with 70% of their capital budget going towards education.
"Let's work together to pass the Protect Our Students Act of 2018, because the status quo is simply not good enough for Maryland's children. Let's work together to make our schools more accountable by passing the Accountability in Education Act of 2018," Hogan states.
While other matters are important such as their efforts on the Chesapeake Bay and creating tough anti-gang legislation, one main point hit home. The push on combating the opioid epidemic.
Maryland became the first state in the nation to declare a state of emergency in response to the crisis.
But Hogan doesn't want stop there, "We have committed half a billion dollars toward fighting the heroin and opioid epidemic and substance use disorders, with a four-pronged approach focused on education, prevention, treatment, and enforcement."
Hogan was even able to bring a face to the problem. Two weeks ago, he received a letter from Karen Dolch, a mom from Salisbury. She wrote about her son, Chad, a 4-year veteran of the United States Army who served a 15-month tour in Iraq. When Chad returned home, he struggled with PTSD and addiction.
We're told he got clean and was turning his life around. But in her letter, Karen wrote that on December 17th, Chad tragically died at the age of 29 after overdosing on heroin that was mixed with morphine and fentanyl.
Chad's mom was there today, to show the face of someone dealing with this tragedy first hand.
Beyond that, Hogan made it clear. Despite what's going on at the federal level, he hopes both parties can work together to continue to get Maryland on the right track.
And because local matters, 47 ABC caught up with members of the Eastern Shore Delegation to get their thoughts on the Governor's address.
Despite different party affiliations, one thing both parties can agree on, the Governor's focus to bring more jobs to the state.
Delegate John Mautz says, "Now what we're looking at is a future of growth and strength, we're reinvesting into our communities and we're also doing things to bring more business to Maryland, which is really good to here."
And Senator James Mathias chimed in to say more jobs are being created from Maryland 2.0, which includes Wicomico County.
Hogan's address on education was something local lawmakers are pleased to see.
"With education this current budget has record investment in public education that pretty much matters to everyone in our district," Delegate John Mautz.
Delegate Mary Beth Carozza added this the record number of budget for education and every jurisdiction in the state of Maryland will get an increase on education across the board.
But it's the opioid crisis that has everyone's attention.
Senator Adelaide Eckardt tells 47 ABC, "We need to continue the prevention, the education and the treatment and that's being put in place."
"We're seeing things that the Governor is doing now with more behavioral health beds available and counseling for addictive situations as well as working with the medical community from keeping this from happening," Delegate Charles Otto says.