Elementary student sets pace at jump rope for heart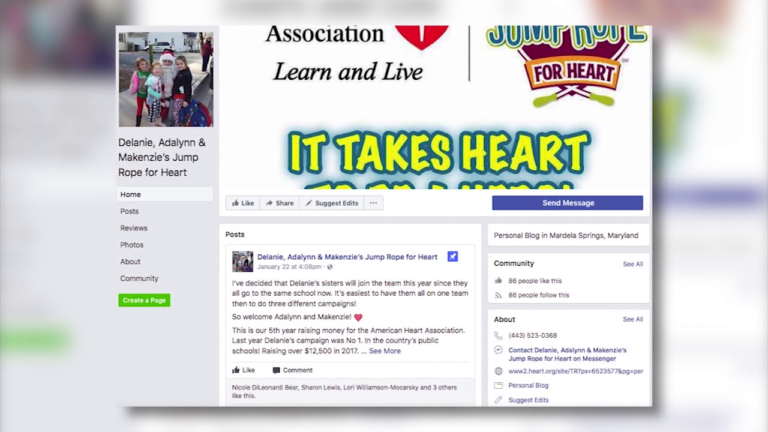 Jump roping equals big fundraising dollars, at least for one fourth grader at Northwestern Elementary in Mardela Springs.
The school, as of Friday night, has surpassed $31,000, besting its $30,000 goal set back in early January.
One student, Delanie Spear, stands up in a standout school in the Wicomico County School District. She has raised about forty percent of her schools donations. And this isn't a first.
Delanie crossed $30,000 raised since Kintergarden, and has bested her previous mark every year, including this time around.
She says she sees success using a Facebook page set up by her dad. They then go out and collect money, whether it be from family, friends, dad's business partners, or anyone else from the community who finds it in their heart, and wallet, to pitch in.
This year's total, $12,690, nearly matching the total raised by the rest of her classmates.
"Every year we get a lot more so it's a big surprise to see how much we get each year," says Delanie.
The money collected will go toward battling heart disease locally with the American Heart Association.
Spear says it's very good to know she's helping some many with the cash she raises.
The program comes along with a life lesson, free of charge; take good care of your heart and it'll take care of you.
"We talk about heart health and the things that the kids need to do in order to keep their hearts healthy," says Northwestern physical education teacher Megan Block, who also runs the operation for the school. "So we're starting them at a young age, teaching them these things so that they will take it into their adulthood."
"You have to exercise every day to keep your heart healthy, so then, and not to do bad stuff to ruin you heart and lungs," concluded Spear.
We are told the school could hit the $150,000 mark after ten years of the program, over $40,0000 of that from Delanie.
You can still donate to Northwestern's cause online at http://bit.ly/2CaPTiP.