Hundreds dive into the ocean despite frigid temperatures to raise money for a local hospital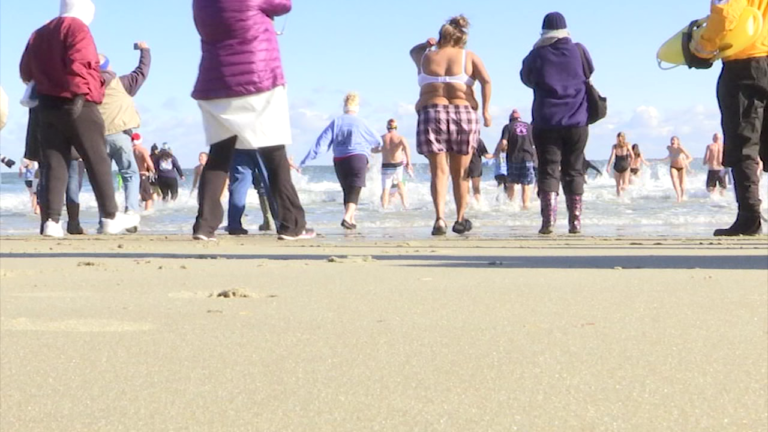 Hundreds dove head-first into the New Year by participating in the 24th annual Penguin Swim in Ocean City. This year's swim was a chilly one.
Temperatures outside were in the 20s, and the temperature of the ocean was 39 degrees Fahrenheit.
Monica McInerney has participated in the swim since she was 11 years old, and agrees that this year was likely the coldest she's ever experienced. "As far as I remember this has been the coldest like I've never seen the bay frozen over before when I've come across to do it so that's a little intimidating," she said.
Instead of canceling, many people chose to come prepared.
Mikayla Denault and Isabel Koval, two participants said, "We brought a lot of blankets for afterward. I have three layers of socks on right now."
Organizers told 47ABC they came prepared too.
Michael Franklin, the CEO and President of Atlantic General Hospital said, "We have the Coast Guard out there so we try and prevent against people who may try and get too excited about celebrating and spend a little too much time in the water so make sure everybody gets in and make sure everybody gets safe."
The annual Penguin Swim event benefits Atlantic General hospital.
Franklin said, "It raises anywhere from $80,000 to $100,000 a year to help services at the hospital and help services in the community."
Participants say the cause behind the swim is part of what makes this event so special, and part of what gets them through the polar plunge.
Steve Cohen, a participant said, "You know this is a local hospital and it's a good cause and it's fun to do."
McInerney said, "I think it makes people like feel good if they pay their dues at the beginning of the year, like it might bring about a good year for them."
Overall, Atlantic General Hospital says they are glad their fundraising event brings the community together for a good cause.
Franklin said, "I think one of the most important parts about this event is the fact that on new years day, the first day of the year, we bring hundreds of people together from the community, thousands of people because we have a lot of spectators to just focus on this community program the hospital and what we do in the community."
If you missed out on the swim — you can still take part in the good cause. You can go to aghpenguinswim.org to donate money.
Their goal is to raise $84,000 dollars this year.