Gov. John Carney says First State is strong, but more needs to be done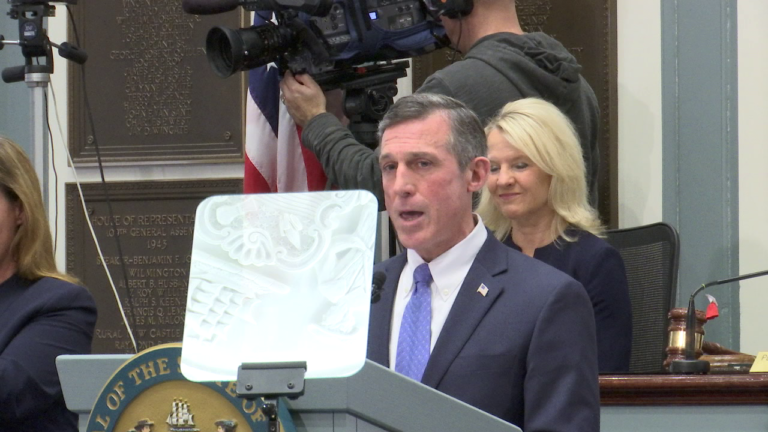 Delaware has closed the book on a challenging 2017, and officials say they are ready to tackle new challenges in 2018. On Thursday, the Governor outlined what he believes are the biggest issues in his State of the State speech.
At the start of Governor John Carney's speech he said, "The state of the state is strong, and getting stronger."
The Governor said we are in a better place now than we were a year ago, when Delaware was in a significant budget short fall, but he said there is still more work to be done.
Governor Carney said. "When we left here last, we had worked through disagreements in balancing a $400 million dollar budget shortfall. I said then and believe today, that more work needs to be done to insure our long term financial sustainability.
Governor John Carney outlined his priorities Thursday for 2018: a stronger economy, better schools, safer communities, a healthier Delaware as well as a strong and stable state workforce.
Governor Carney said, "I'm standing here today asking you to join me in making these goals a reality."
His first emphasis was on education.
Carney said, "Of course, the best thing we can do to invest in our state's future is to invest in quality education for every Delaware child."
Carney believes if we invest in our children, we ultimately invest in our workforce.
"Investing in our workforce will pay dividends for generations to come. Join me in making this a high priority," he said.
Carney also addressed a pressing issue, health care, which accounts for 30% of the states budget.
"Here's the bottom line. We're spending too much money on healthcare, and not getting the best results. We all need to come to the table, state government and hospitals most of all, and be part of the solution," Governor Carney said.
Carney wrapped up his speech on a positive note. He said, "To make our economy stronger, our health care system more effective, our communities safer, our state workforce strong and stable, our children more ready to compete for the future. Working hard and working together, we can and will get this done."
Governor John Carney will be delivering a more detailed budget message next Thursday.