Community writes notes of love on framing of military veteran's new home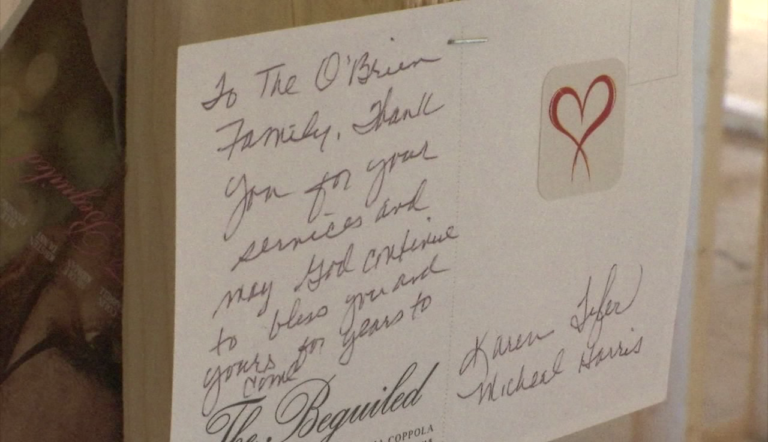 "We see stuff that's from Connecticut and stuff from all over the country so I'm holding back tears," said retired United States Army Sergeant Shaun O'Brien.
"So many people showing their love and their care and their support for us sometimes it's hard to find that," said O'Brien's wife Jesyka.
Shaun O'brien and his family were coming to see the progress their future home was making, but to their surprised they arrived to a home with some special messages inside.
"This is more than I could've ever thought or even asked for it's amazing to see the support," said Shaun.
Dozens of messages and letters filled with love and gratitude were posted all over, turning the O'brien house into a home.
An entire community stopped by the home site;writing inspirational words of support and encouragement before the drywall is put in.
"Warm thoughts, and I've heard that some people can write messages about their own service or something of thanks for his family," said Lance Corporal Jodi Beckford.
The O'Briens were surprised back in June with the news that they would receive a new custom-built mortgage-free home provided by Lewes Building Company and Operation Finally Home.
"I've heard he's been through a lot in this military service so I'm thankful for that to see a fellow service member getting the help they need," said Beckford.
The family had no idea they'd be greeted with such a sweet surprise.
"Coming here and reading these notes makes us feel that there are people that care and care about us and are there for us," said Jesyka.
"When they're going through their healing, emotional, physical, spiritual healing and they're having rough days and they come back home they know that they're surrounded in love," said Executive Director for Operation Finally Home Rusty Carroll.
The house is expected to be complete by April just in time for the arrival of the newest member of the O'Brien family.
"The house is surreal, the experience to know that we have another one on the way we're going to have room for him," said Shaun.
Operation Finally Home and the Lewes Building Company, with support from Southern Living, say they're thrilled to provide the O'Brien family with a home to call their own.
About U.S. Army Sgt. Shaun O'Brien
U.S. Army Sergeant Shaun O'Brien enlisted as a combat medic in 2008. Prior to serving, O'Brien worked as a graphic artist – a passion he developed at 17-years-old as a method of coping with his mother's health issues. However, he felt a calling to help others and make a difference. After a chance meeting with recruiters, the New Jersey native enlisted and left for basic training in Fort Benning, Ga., just three weeks later to begin his career with the Army.
O'Brien was sent to Fort Sam Houston, Texas, for Advanced Individual Training (AIT). Three months after AIT graduation in 2009, O'Brien married his longtime girlfriend, Jesyka, and the two were transferred to Fort Knox, Ky. He was deployed to Afghanistan from 2011-2012.
O'Brien was stationed in Afghanistan and served on the sweep team, clearing areas after breaches in the perimeter. The team was hit by a HEAT (high-explosive anti-tank) rocket, landing only about 25-feet away. After shouts for a medic jolted him back to reality, it wasn't until he stopped attending to the wounded that he realized he was one of the wounded himself.
O'Brien was moved to Walter Reed National Military Medical Center at Bethesda and was treated for a traumatic brain injury, herniated discs, and compressed nerves in his spine, for which he has undergone three back surgeries. The TBI, along with a later diagnosis of PTSD, impacted his short-term memory along with his ability to control his emotions. For his service, O'Brien received the Purple Heart.
Despite these obstacles, O'Brien enrolled in a vocational rehabilitation program and plans to return to college to pursue a bachelor's degree in industrial design. Art continues to serve as therapy for O'Brien, particularly as he copes with the cognitive effects of his injuries.
Operation FINALLY HOME and Lewes Building Company, with support from Southern Living, are thrilled to provide the O'Brien family with a home to call their own in Lewes, Delaware.