73 years later, WWII veteran finally laid to rest at home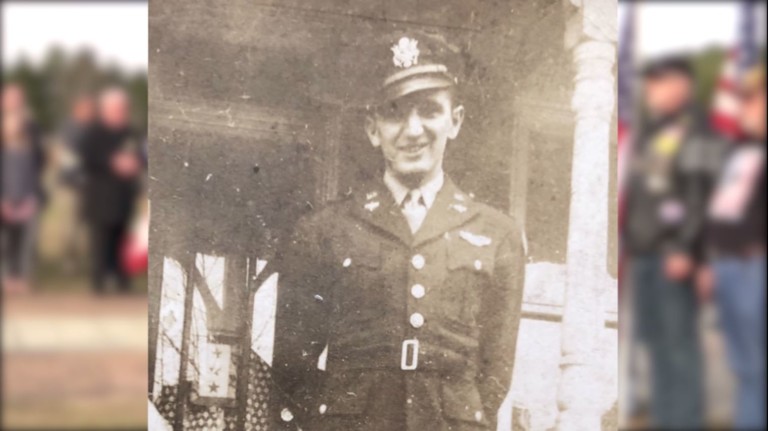 "We get to celebrate a true hero."
2nd Lt. Stanley Stegnerksi, an American war hero, is back where he belongs.
"Stanley died November 21, 1944 in a plane crash defending our nation, defending our freedom, it doesn't get any more hero than that," says Janice Tunell, Stanley's extended family member.
Stegnerski a World War II fighter pilot for the U.S. Army made the ultimate sacrifice. After being M.I.A. for nearly a century, he is finally back with his family.
Laid to rest alongside his brother, Henry Stegnerski, at the Delaware Veterans Memorial Cemetery in Millsboro.
"This is true closure because they'll be resting side by side. It doesn't get much better than that were just thrilled," says Tunell.
But finding Stegnerski and getting him here was no easy task.
"In June of '07 Herr Leich, a German historian, was searching the field where Stanley went down. He thought he was searching for a German plane,but it actually turned out to be an American plane."
But nothing happened until a sister cities program came into the picture. A group of students from Gastonia, North Carolina went to the site of the plane crash near Gotha, Germany, their sister city.
"We actually got to go over and speak with some German kids, who at the time we spoke to them were adults, but they were children at the time that the plane crash happened and so we got to hear their experiences and kind of see their perspective and then you know we were able to do a brief memorial service for him right there," says Brooke Conrad, a sister cities student.
And it was with their help that the excavation of the site finally took place nearly eight years later.
"The sister cities program which is with Gastonia, North Carolina and Gotha, Germany they're the reason we're here," explains Tunell.
Fast forward to Monday, January 2018, Stanley is peacefully laid to rest next to his brother.
A day his family never thought would actually happen.
"Never in my wildest dreams did we think we would have closure like this, never."
Finally he receives the homecoming he deserves and the closure his family waited for for 73 years.