Local shelters help the homeless celebrate Christmas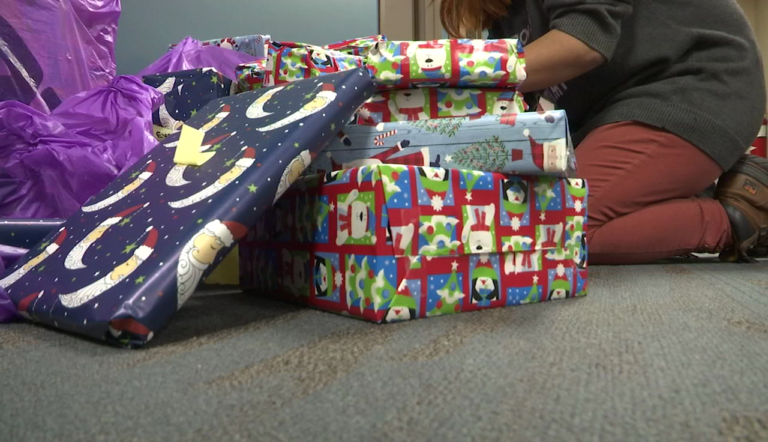 The Help and Outreach Point of Entry aka H.O.P.E. Inc., had a special guest stop by to bring some presents and goods to dozens of homeless men and women.
"It really helps to lift their spirits because when you don't have family in the holidays and you're by yourself and your outside and it's cold it helps to lift your spirits when you get a present," said Development Coordinator of H.O.P.E. Micaela Tedford.
Delicious smells of cooked ham, greens and other goodies filled the halls while Santa Claus and some of his helpers handed out backpacks filled with goods.
"The backpacks are filled with survival supplies there's going to be some food in there there's going to be some warm clothing and of course the backpack which everybody needs to carry their supplies around with them," said executive director for H.O.P.E. Donna Clark.
Sleeping mats, extra socks, and treats were also handed out–all in hopes of filling those without a home or family to spend the holiday with – with some holiday spirit.
"It's just so important that at this time of year many people are estranged from their families and we want to show them that they have family here that they're love is here as it is every day," said Clark.
The hope and life outreach program was also getting some of their children excited for the holiday with a screening of the Polar Express, some hot cocoa, and an early Christmas present.

"We want to give them that little bit of magic to bring them back to show them there's still that happiness and joy and wonder even when they're going through this tough time," said Community Relations Administrator for HALO Logan Schevel.
And they'll have a special day planned for those spending Christmas day at the shelter.
"It's all arranged so that each kid gets its own section, each adult gets their own present, and each one has an individual name tag so they know it's theirs which is another thing of that ownership aspect," said Schevel.
And volunteers say the work they put in is all worth it to make Christmas Day for the homeless a special one