Former airman reunited with K-9 partner after years apart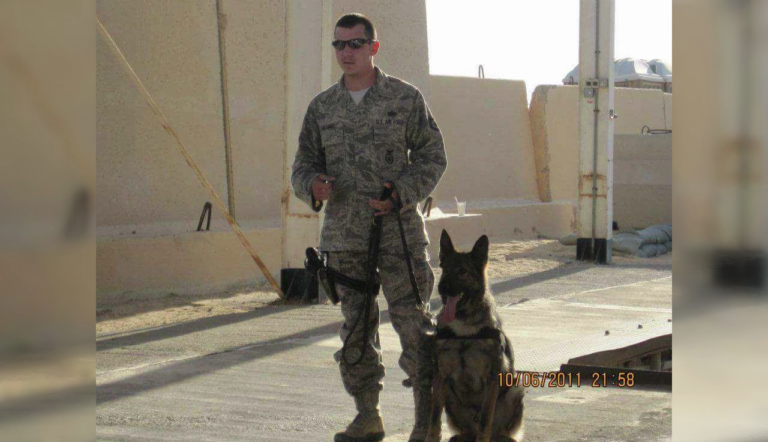 Dog's are considered man's best friend. And for one retired military airman,that saying was proven true after working with his K-9 partner for years. The duo was unfortunately split up during their time of service, but ultimately fate brought the two back together.
"He kind of did that double take but it was really exciting to see him again after so long," said former airman Aaron Balsamo.
Balsamo was thrilled when he was finally reunited with his K-9 military partner Errol after four years of being apart.
"The bond I had with him was the strongest out of any of the other dogs I worked with. Kind of always told myself that if he came up for adoption there would always be a place on my couch for him," said Balsamo.
Errol was an explosive detector dog and worked with Balsamo for four years deploying all over the United States and the Middle East.
"We've been tasked to assist the secret service, protecting president and vice president and other distinguished visitors to the United States there's a lot of different things we've done,with a lot of different scenarios," said Balsamo.
Their journey together was tragically cut short when Balsamo was deployed to Washington D.C. but this time without Errol. The duo hadn't seen each other for four years until one day Balsamo received a phone call.
"They gave me a call and told me he went Cap 4 and he was going to get medically retired and they got me in touch with the kennels out there and I was able to make contact with them and be able to adopt him and bring him home," said Balsamo.
After eight long years serving for the United State's Air Force, Errol, now 11 had his official retirement ceremony.
"The wing commander was there squad and commander, the wings command chief was there so the top officer and top enlisted person on the base were there," said Balsamo.
Now the duo is back together like the good ole days, side-by-side 'till the end.