Worcester County holds new "Until Help Arrives" class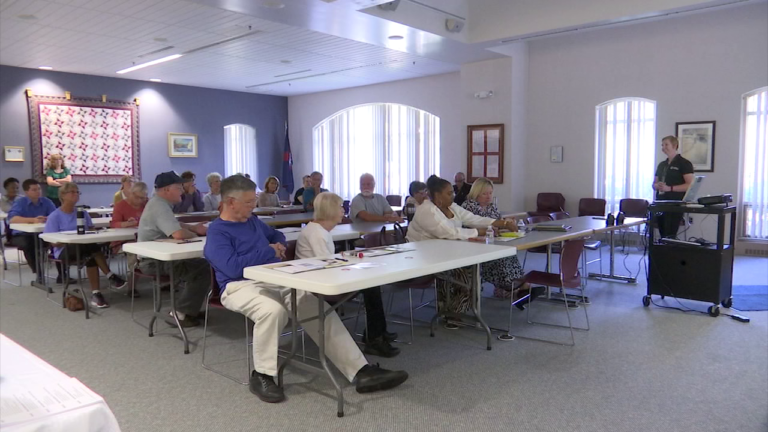 Worcester County Emergency Services held a new class in Ocean Pines Thursday to prepare the public for every day emergency situations.
Those in attendance received a certificate at the end of the course showing they have been through emergency response training.
The class is called, "Until Help Arrives." Fred Webster, Director of Emergency Services said, "Before Help Arrives is a FEMA developed program to help educate people on what to do and how to react in the event of an emergency in their area."
Thursday's class attracted a big crowd, eager to learn how to respond in emergency situations.
Joann Roland, a class attendee, said, "You need to be aware, you need to have the information, you need to know who to call, and you need to know what to do. You should always be somewhat prepared. Always."
At the class, people were taught important, potentially life-saving skills.
Tom Kane, Worcester County Emergency Services Planner, said, "This course is designed to enlighten you, and to teach you how to help your neighbor and your family until the first responders arrive."
The class featured demonstrations, slide shows, and tables showcasing various emergency necessities, like grab it and go buckets.
Roland said, "I think [the buckets] are great. [They] are perfect to get it prepared, put the stuff in it, put it aside, and that way, all you have to do is grab it when you need it, and you don't have to be running around looking for stuff."
If you missed Thursday's class, organizers say not to worry.
Kane said, "We will come and do an outreach or talk to any civic group church organization and we also have CERT classes, which are Community Emergency Response Training classes that we offer to the public. You know, we'll have those any time when a group would like them."
Organizers said they were pleased with Thursday's turnout. They said they plan to hold these classes every September for years to come.
Organizers still want to remind the public that they will be holding another training course on September 17th.
You can sign up for that class or CERT classes by emailing tkane@co.worcester.md.us or by calling 410-632-3080.