Locals kid around at goat yoga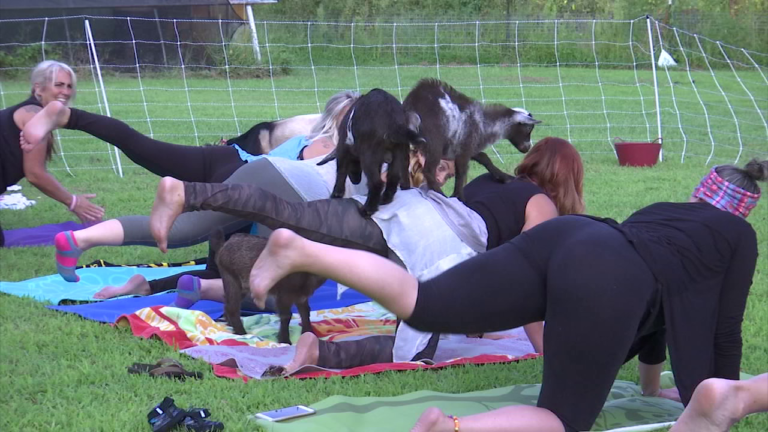 "We did a lot of kidding around!"
An odd reaction for a yoga class, but unavoidable for this one. Yogis were met with some unusual challenges at Naturally Sunkissed Farm, baby goats.
"One of two things was going to happen. We were going to entrain the goats from our energy to theirs and they would become more peaceful or which is what happened, the goats entrained us we became very giddy and we had a lot of fun and um we all became children again," explains Zenna Wellness yoga instructor, Chrissy Ehrhart.
The laughter never taking a break, only good energy and good vibes filling the air.
"It was amazing. It was the first time I've done yoga for the full hour where I was able to be distracted and didn't think of anything else going on," says Kerri Lambert.
These goats serve as a reminder not to take life too seriously.
Chrissy adds, "The community of it of watching the people giggle and laugh and get out of their stressful routines and have fun too."
47 ABC's Lissette Nunez also playing into the distraction like everyone else.
"You just had fun and laughed from your belly. I can't remember the last time I laughed that hard," says Lambert.
Even the instructor Chrissy finding it hard to get the flow of yoga moving.
"I had so much fun, so much fun doing it. I really had a hard time focusing, I am just so in love with these cute little faces."
But the goats didn't just lighten the mood, they also added extra challenges with body, mind, and soul.
"We had to practice really engaging the strength of our body because you didn't know at any time if a goat was going to jump on you but also we connected with the animals it softened our hearts," Chrissy continues, "We were practicing resonating our good energy and our good vibes. And we sent that out to each other and hopefully that will be sent out to the whole world. That's the whole point, the momentum that we create is very important and I think we created a really cool one tonight."