Local girl defying all odds by living without kidneys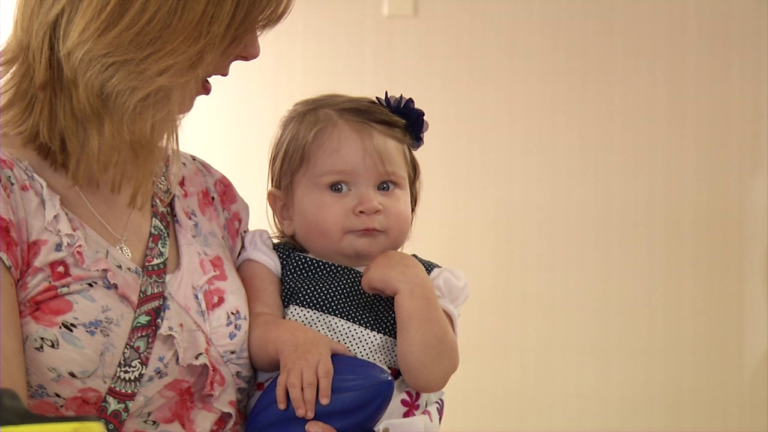 A local one-year-old is looking to receive a kidney transplant soon.
Charlotte Rice looks like your typical, happy and health one-year-old girl. You would never guess that she is defying all odds by living without both kidneys.
Meghan Rice, Charlotte's mother, said, "It's just amazing to have her here with us because there was that point in time where I thought that I would never have the chance to plan her first birthday and all the fun things that we've done together."
Meghan Rice had a completely normal pregnancy up until about 34 weeks in, when midwives noticed her belly had stopped growing.
Meghan then learned that Charlotte had no signs of a bladder or kidneys.
Meghan Rice said, "I was just stunned. Like I had gone through my whole pregnancy thinking there was absolutely nothing wrong there was no reason for anything to be wrong with her, so it was just a shock."
The outcome for Charlotte was looking bleak.
Doctors wanted to induce Meghan right away, but she and her husband resisted.
Meghan said, "They were giving us like a 5% chance that she would survive, so my husband and I discussed it and just decided to go full term and let Charlotte come when Charlotte wanted to come, and just whatever happened, happened."
Meghan said the two weeks before her delivery were some of the hardest of her life. She said, "It was torture. It was the worst two weeks of my life. It was a lot of crying, a lot of mourning for something that was still alive inside of me, it was confusing."
Meghan was in labor for several days, but when Charlotte was finally born, she came out crying just like a healthy baby would.
Meghan said Charlotte now uses a dialysis and a feeding tube in order to survive.
Nicole Sharf with the National Kidney Foundation said Charlotte will have to wait until she is 26 lbs. to be eligible for a transplant, and Charlotte still has some growing to do.
Meghan Rice said, "Babies with kidney issues like Charlotte, they grow a lot slower than normal kids, so she's only 17 and a ½ lbs. now at 13 months old. So eventually, I'm looking forward to not having to do dialysis every night with her."
Those who know Charlotte say she is an extraordinary little girl.
Sharf said, "She's a miracle and she's here today and she's a year old and she's thriving and she's beautiful."
Charlotte Rice is not the only one waiting to get a kidney transplant.
The National Kidney Foundation says over 100,000 people are currently on the kidney transplant waiting list.
That's why the Kidney Foundation says it is important for people to sign up to be donors. The Foundation said most people only really need one kidney, but those who should not consider donating a kidney are those who have a history of diabetes and/or high blood pressure.
The National Kidney Foundation said even if you are not a match for a friend or loved one in need, you should still consider donating.
Nicole Sharf said, "The beauty of it is although you may not be a match for your loved one without a kidney, you may be a match for somebody across the country and somebody else in another area is a match, so there's a paired exchange program that can be, the chain can be quite lengthy, which is pretty remarkable and amazing."
The National Kidney Foundation said living donors are in high demand because living kidneys tend to last longer than ones that are received from deceased donors.
If you are interested in learning more about the kidney donation process and how to become a donor, you can visit the National Kidney Foundation website here.