Erasing the stigma of opioid addiction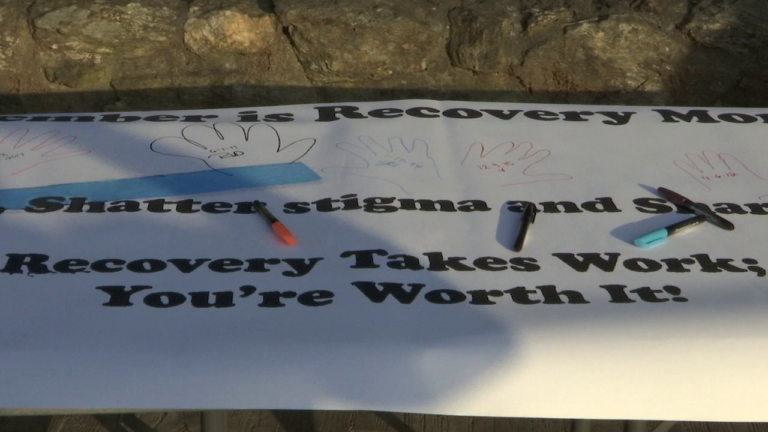 Hundreds gathered at Riverwalk Park Thursday evening to do their part to erase the stigma of addiction as part of International Overdoes Awareness day.
Rudy Drummond, working as an assistant director at the Joseph House Workshop, has been sober for six years and is now trying to do his part to help others.
"The awareness here is high. We can get the word out that disease is an addiction but its treatable. No one has to die."
One of the main goals of the day is to help erase the stigma attached to addiction, seen as one of the main factors by those in the recovery community that keeps those addicted from getting the help they need.
Clay Stamp, Executive Director of the Opioid Operational Command Center for Maryland Governor Larry Hogan, says putting a face on the conversation is a big part to combating the epidemic.
"They come out to these events and they see that the people that are here are just like their brothers, their sisters, their children, their neighbors and then you normalize the conversation."
Tawana Gale, a Salisbury resident, saw one of her family members battle addiction. She says people need to put themselves in their shoes to understand what they are going through.
"(Her family member) would (try to seek help) but I know it's hard. It's like me, if I'm addicted to Pepsi or some type of candy, it's hard to get away from that."
Drummond says he uses his battle with addiction to drive what he does today.
"So there's nothing wrong with coming out and getting the help that you need as an addict. I mean, I've been clean for over six years and I'm doing some wonderful things with my life, and I'm not ashamed to say that it was the addiction piece that propelled me into those things."
If you or a loved one is battling addiction the Sante group, who was in attendance tonight, responds across the Eastern shore. They can be reached at 1.888.407.8018.