Warnings of rip currents across Eastern Shore beaches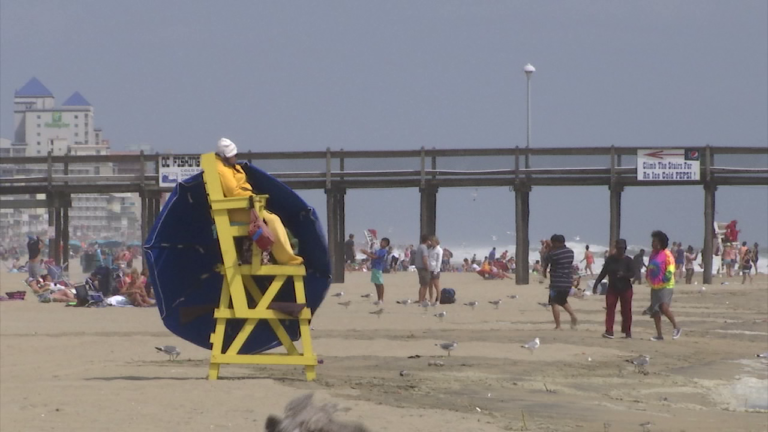 Potential tropical cyclone 10's impact was being felt in beach towns like Ocean City on Monday with close to 50 miles per hour wind gusts.
With that windy weather, came dangerous swimming conditions.
The Ocean City Beach Patrol advised people to stay out of the water.
Steve Morris, an Ocean City visitor, said, "Well the warnings went out to stay out of the ocean, and that's really good advice. I just got down to my knees and I see some kids down there. They're just going to be sucked under if it keeps on like this."
The intense waves had many Ocean City visitors shocked.
Roberts, another Ocean City visitor, said, "We come to Ocean City every year and this is probably one of the most, like biggest waves we've ever seen and pretty choppy."
Lieutenant of Ocean City Beach Patrol, Ward Kovacs, said, "Today and probably for the next two days or so, we're going to have a high occurrence of rip current, which for us means that the lifeguards are going to keep the swimmers in closer to the shore a little bit."
Rip currents can pull people out into deep water and make it hard to swim back.
Beach Patrol said if you are planning to get into the water when there's a rip current, wait until there is a lifeguard in the stand.
"The most important thing is please don't go into the water until lifeguards are on duty. Keep your feet in the sand until the life guard is in the stand. We'll be out there from 10 o'clock to 5:30," Hovacs said.
The ocean was not the Beach Patrol's only concern, the windy weather was causing trouble on land too.
"Right now we're working with the public works crews to try and get our lifeguard's chairs off of the beach so they're not going to become floating debris, and also to get their trash cans off the beach so that they don't become floating debris on the ocean and also so that we don't lose the trash that's already in the cans into the sea," Hovacs said.
Beach Patrol said that Monday's wind will only get worse into Tuesday and Wednesday.
Beach Patrol said it's not just swimmers who need to be aware. They said boaters need to be on the lookout too with the rough water conditions. They said people need to pay close attention to boat advisories before setting out, and if you're in doubt, call the Coast Guard.