SU students door knocking campaign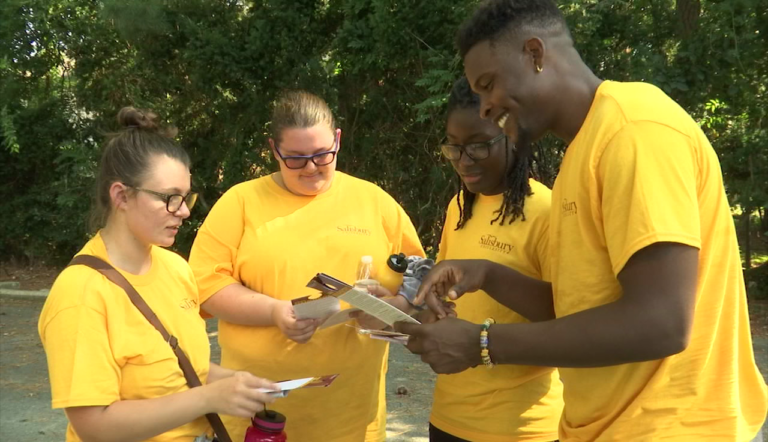 Salisbury University students are back and for the community, can be good or bad for some community members. With many setting up shop off campus, there is a renewed sense of community and who it includes.
Tuesday afternoon, 160-plus S-U students hitting the streets to introduce themselves to the community for the 7th year of Salisbury's Door Knocking Campaign. The administration says that when the students first started knocking seven years ago, it was an unofficial event and only five participants showed up. Now an official event with hundreds wanting to take part, hoping to end the stigma that neighbors assume when they move off campus.
"I feel like putting a face to your college students and letting you see actually who you are and not our stereotypes," says Darah Gunn. "It really gives us a chance to change our neighbors minds and make them say, 'hey, they're not all crazy.'"
The neighbors also taking in their message, as some say they have seen a sharp decline in the severity and number of complaints they make to the university.
"It varied from noise, to trash to poor behavior by students at the time. but that doesn't exist to that extreme like it used to," says Rocky Burnett, who lives directly next door to a student rental.
On the administration side, they were just looking to get ahead so those problems would never cross their desk.
"We really wanted to get out there and let the community know if you have a concern, here's the office that you can reach out to and if you do reach out to us, we will be proactive in reaching out to students," says Dane Foust, VP of Student Affairs.
But, the importance for students taking part in the event is the connection that they gain with their neighbor, they say. That will lead to their success not only in the community, but also in the classroom.
"That interaction, safe environment, we always want a great experience here, and we want to be kind to others, so that's why it's special," said Gunn.