Murals reflecting African-American heritage comes to Dorchester County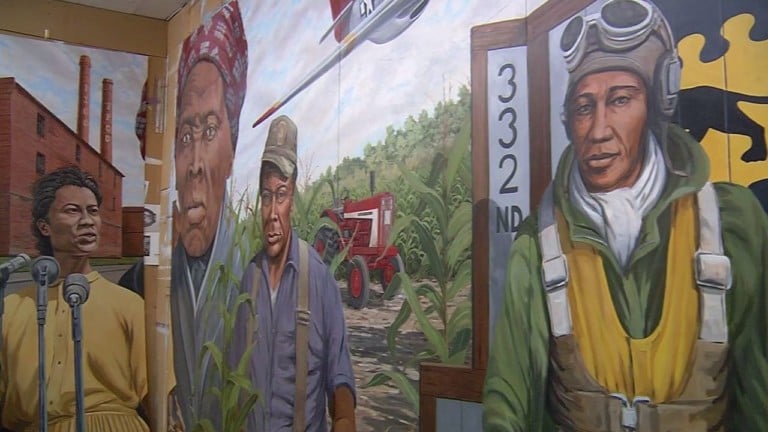 In Dorchester County, a series of events from July 20-23 are taking place to commemorate 50 years since the civil rights movement in Cambridge.
It's called "Reflections on Pine". Pine Street was actually the heart of the African-American community in Cambridge and in 1967 all eyes shifted there at the height of the Civil Rights Movement.
On the evening of July 24, 1967, a fire erupted on Pine Street.
An elementary school, several businesses, and a church were destroyed.
50 years later, these events will be the topic of community conversations along with a Race Against Racism Walk.
Among these events, there will be a dedication ceremony for a new set of murals. These murals are more than just paintings.
With each stroke, history is being brushed onto these 12 four-foot-wide panels.
These murals are actually painting a picture of the past of the African American history. Putting art into the heart of Dorchester County.
The hand behind the brush is Michael Rosato. Rosato was able to sit down with several locals, in order to get a better depiction of the civil rights movement in Cambridge.
These figures have a range of rich history and influence on the city, from farmers to brick masons.
The most prominent faces range from Harriet Tubman to Gloria Richardson, the leader of the civil rights movement in Cambridge in the 1960's.
When the murals are finally planted, Harriet Tubman will be in the middle. The rest of the figures placed around her.
Dorchester County's biggest push for these murals is to educate the community.
Rosato says, "A part of this is not only telling the story visually. But hoping people come and want to learn more."
Rosato has been working on these paintings for the past 40 days.
The dedication of the murals is set for July 21st on the corner of Maryalnd Avenue and Route 50.