Trump under fire from AG's over business ties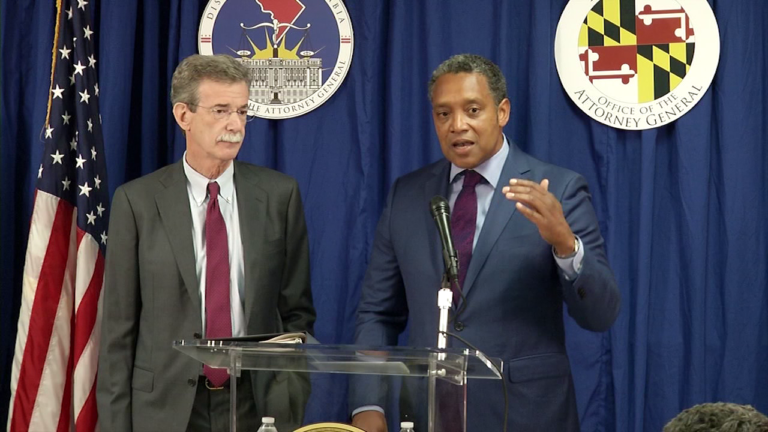 As the Senate investigates Russia's interference into the 2016 presidential election the president is now facing fire from the D.C. and Maryland Attorney's Generals in the form of federal lawsuit.
The suit claiming President Trump is in violation of two anti-corruption provisions of the U.S. Constitution because of his continued involvement in the Trump Companies.
"We're concerned that foreign governments are coming to the Trump businesses for the single purpose of couriering special favor from the president of the united states so that their interests can get a higher priority than the interests of the American people," said D.C. Attorney General Karl Racine.
Specifically the lawsuit alleges President trump is in violation the emolument clauses which strictly forbids the president from taking compensation from foreign governments.
Maryland attorney general Brian Frosh using the example that for a decade Trump had tried and failed to get trademark protection from China.
"During his campaign and after his election he indicated he might end the one china policy, but on February 9 he met with the president of China, pledged to continue the one china policy, five days later China gave him trademark protection," Frosh said.
Another example alleging wrongdoing that Racine and Frosh pointed to is the continued use of the president's hotels by foreign governments. Alleging that Trump often greets foreign guests at his D.C. location.
"The Kingdom of Saudi Arabia who's government has important business and policy before the president of the united states has already spent hundreds of thousands of dollars at the Trump International Hotel," Racine said.
Both attorney generals allege with his business ties still intact President Trump gives off the illusion he's putting his personal business ahead of the business of the American people.
"If that's not a harm to every American citizen and every resident of the District of Columbia and Maryland, I don't know what is," Racine said.
The suit has been filed in The United States District Court for the District of Maryland and asks for the court to order Trump to stop the alleged practices.
Racine said Trump has 60 days to respond to the suit. White House Press Secretary Sean Spicer said later in the day that they will seek to dismiss the case.
Monday did not mark the first time emoluments have been brought up concerning the Trump administration. Prior to his inauguration his attorneys sought to counter any potential claim under the clause by saying paying for a hotel room is not a gift or present and therefore not an applicable.