OC Car Show showcases a unique cause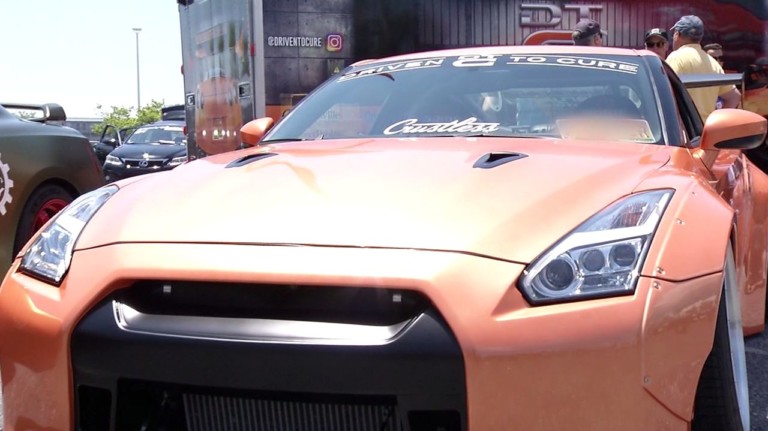 It's one of the largest automotive events on the East Coast and it's happening in Ocean City.
2017's OC Car and Truck Show is attracting all kinds of vehicles from classics to exotic cars.
But one stood out among the others. It was a bright orange Nissan GTR that was quite the show stopper.
It has low-slung two door and wide fenders but it's the driver behind it that's creating quite the buzz.
Andrew Lee was diagnosed with a rare kidney cancer at 19 years old.
At that age, his father asked him about his life goals and Andrew responded about his dream car of a GTR.
From there, Andrew had the idea to build upon the car and turn it into a nonprofit. The car was a tool to raise awareness for kidney cancer.
Despite his rough ride with health, Andrew decided to spin it into a positive.
He created the cause called Driven To Cure.
His father, Bruce Lee says this is all in an effort to not only raise funds but to also raise awareness.
"It's a stage 4 kidney cancer, both kidneys, the pelvic bone and we're hopeful, we're going to find a cure so driven to cure," Lee says.
The color of kidney cancer awareness is orange. And their bright organge tent at Saturday's car show was able to attract many in order to donate to this cause.
The organization is a volunteer based group. From t-shirts to stickers, everything is donate. Every dollar raised will go to the research of rare cancers.
Within their first year, Driven To Cure has raised over $300,000 for kidney cancer research traveling to over 27 cities. This year, they hope to raise double.
And to kick off their second year, the OC Car and Truck Show was their first stop.
The creator of the event, Brad Hoffman, decided that partnering with Driven To Cure was crucial for their car community to come together and help.
Hoffman says, "What they have done for the car world was show it that we can come together for a great cause and he's doing it on a world wide level. So I'm really honored to have them back and to celebrate his year anniversary with DTC here at the show."
Despite knowing there's currently no cure for kidney cancer, Andrew still have a positive attitude and hopes to help others.