Del. Republicans unveil six-point proposal amid budget talks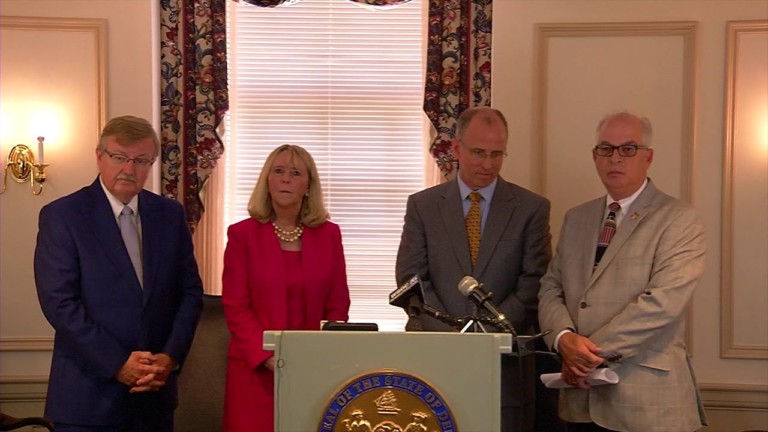 Time is ticking in Delaware, with the new fiscal year beginning in just over three weeks.
State lawmakers are hard at work trying to figure out how to close a multi-million dollar gap between state revenue and obligations, while Governor John Carney has hosted a number of budget reset conversations in the past several months.
The proposal unveiled Tuesday by republicans in office has six core items they'd like the general assembly to consider: creation of a budget stabilization fund, a new fiscal framework, prevailing wage relief for local government and schools, Medicaid reform, school district consolidation, and performance metrics for state operations.
District 39 Representative Danny Short explains it's something necessary at a time the state is facing a roughly 382 million dollar deficit.
"We think this is a structural change that needs to happen, that's one that we talked about for many many years and needs to be reviewed," Representative Short said during a press conference Tuesday.
Republicans argue there are at least 18 school districts in the U.S. that each manage more students than the collective student populations of all 19 Delaware districts. They're calling for a task force to investigate both advantages and disadvantages of district consolidation.
"Not just have rhetoric around the fact that we can't do that, because it's going to cost us more money but actually put together a task force that would come together, review this opportunity and come back to us…the legislature with a recommendation of whether it would actually make sense," explained Representative Short explained.
Part of the proposal released Tuesday also includes taking a look at Medicaid spending in the First state.
About one-in-four Delawareans are covered by Medicaid, which is funded jointly by state and federal dollars.
Senator Greg Lavelle of District 4 says that's why they're proposing a Medicaid Reform Study Committee tasked with identifying possible misappropriation.
"If we could save just five percent on Medicaid that would be 40 million dollars a year that could be used elsewhere, perhaps even because we never see the end of proposals to expand Medicaid in this building and we continue to get them everywhere," said Senator Lavelle.
Democratic Senator David McBride of District responded to the proposal on Tuesday, saying the idea comparing the investment of taxpayer dollars as a "spending problem" highlights the growing rift between the Republican Party.
"It makes for a nice campaign slogan, but slogans won't close our deficit," Senator McBride said in a statement. "With only nine legislative days left in 2017, we're working to find a balanced budget solution while our Republican colleagues are preoccupied with political theater that ignores reality and does a disservice to the Delawareans who pay their taxes expecting vital core services in return."
47ABC reached out to the office of Governor John Carney. In a statement, we're told he's been saying for months that Delaware needs a long term budget solution relying equally on spending cuts and revenue.
"I'm ready to move forward, assuming that legislators are just as serious about voting on a responsible, long-term plan to raise revenue," Governor Carney says in part. "Over the past several months, I've talked to Delawareans across our state about our budget challenges, and they understand the need for a balanced solution."
For more on Governor Carney's budget reset plans, click here.