Concerns over Del. budget brew at senior center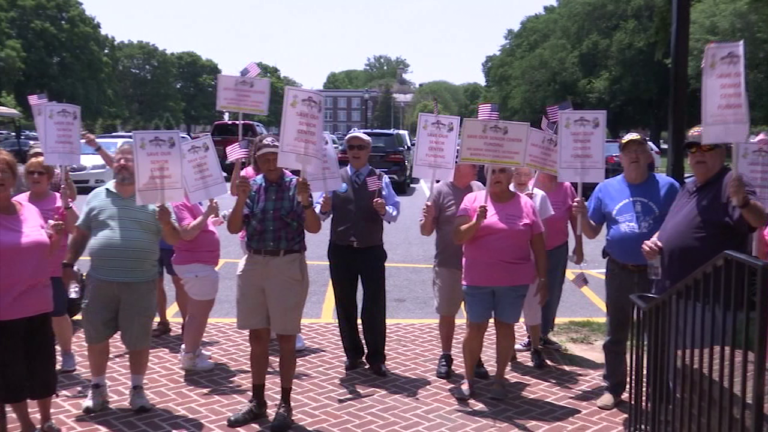 Delaware lawmakers are hard at work trying to pass the 2018 fiscal year budget but with time ticking, concerns are growing.
"Save our center. Save our center. Save our center," a crowd outside Legislative Hall cheered on Wednesday.
This was the message members and advocates of the Frederica Senior Center wanted members of the Delaware General Assembly to hear.
Wednesday's rally comes weeks before the start of the fiscal year 2018, a time the state of Delaware is dealing with a budget deficit of about 385 million dollars.
"There's speculation that grant in aid will be cut and we're between ten and 30 percent, which would actually be devastating," explains center director Renee Hoffman.
47ABC met her before the rally on Wednesday. She explains the center works as a non-profit and rely heavily on grant-in-aid funds and volunteers.
The proposed budget unveiled earlier this session sets aside 40 million dollars for grants-in-aid. While an on-camera interview was declined, a spokesman for the office of Delaware Governor John Carney says that's a few million less than the last fiscal budget.
Hoffman says this center serves about 1,400 members which is why funding is so crucial. A proposed cut in grants-in-aid means a possible cut of about 70,000 dollars a year for the Frederica Senior Center.
"70,000 dollars a year is a lot," says Hoffman. "We will have no choice but to cut some programs. We will have no choice but to cut back on staff, and as long as I'm breathing…we are not going to stop our free meals, we are not going to stop our free transportation because that's what senior centers are designed to do."
The crowd on Wednesday came face to face with District 33 Representative Charles Postles demanding answers.
Postles tells 47ABC he does support the senior community but also recognizes the problem of the deficit.
"The governor has said in his message that he is interested in a shared sacrifice, you've heard that term before," he told the crowd.
47ABC made multiple attempts for a statement from Governor Carney. As of 7:30 p.m. Wednesday, we had not heard back.
For a copy of the budget, click here.